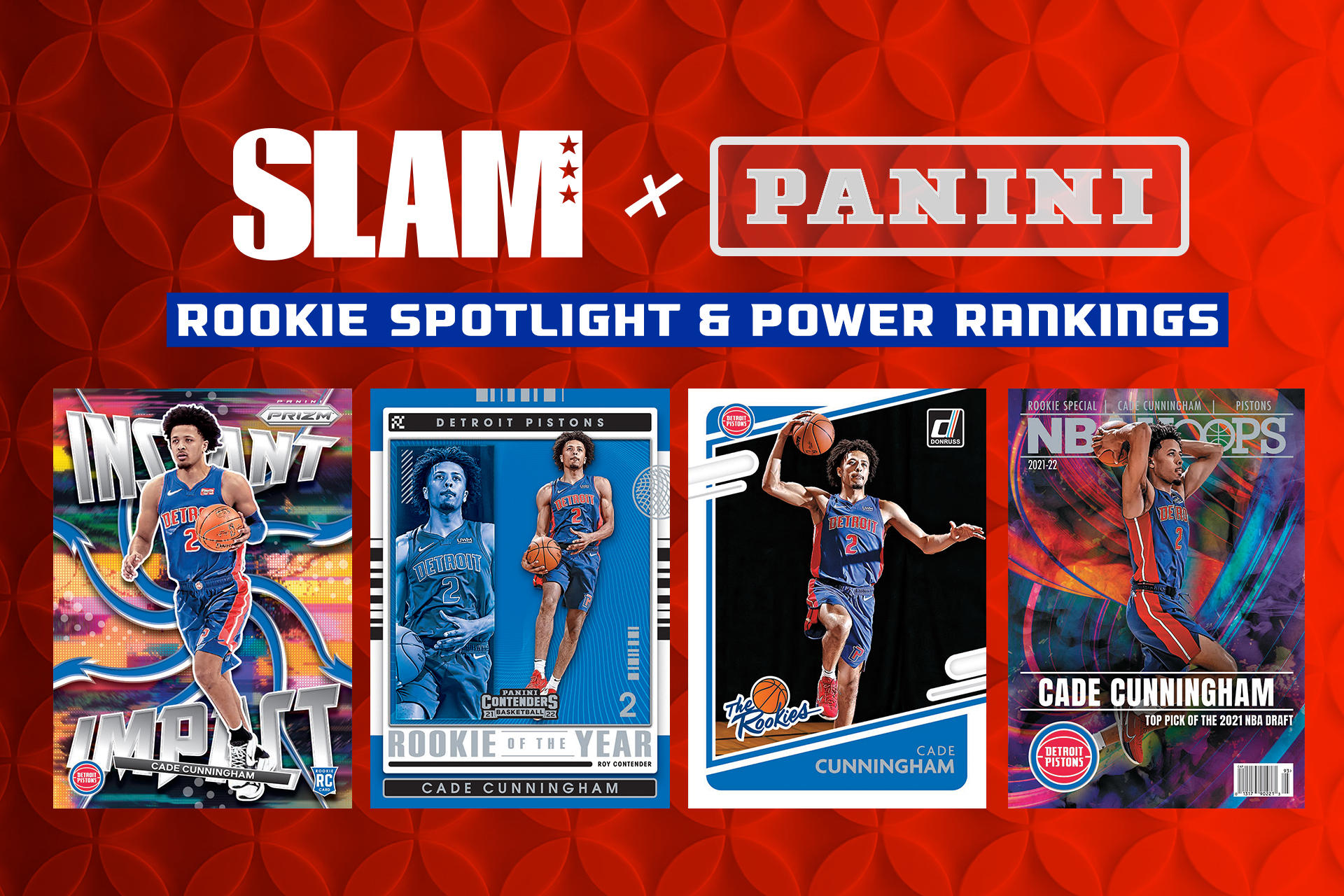 Rookies are going to struggle. They are going to make mistakes. They are going to turn the ball over and miss a lot of shots and get torched on defense. That's just how it goes. The transition to the NBA is smoother for some than others, but it's never perfectly smooth. There will be unexpected, perhaps jarring, bumps in the road. It all comes with being a rook.
The struggles shouldn't be ignored completely, but they also shouldn't be taken too seriously. NBA fans can't seem to help themselves when it comes to the latter, though. I suppose overreacting and spewing hot takes is kind of fun? It certainly grabs people's attention. And besides, if you're not overreacting a little bit, what are you doing on NBA Twitter in mid-November, except breaking down clips of vomiting courtside fans and wild altercations?  
All of that brings us to the focus of today's Rookie Spotlight: No. 1 overall pick Cade Cunningham. He was, according to many on social media, already clearly a bust after his first few games in the NBA. Cunningham missed the beginning of the season with an ankle injury and really struggled to find his rhythm upon returning. In his first three outings, the new face of the Pistons shot just 18 percent from the field and went 1-21 from behind the arc. Twitter went crazy. Critics were ready to sound every alarm and fire up the trade machine. Posts like this and headlines like, "Should the Detroit Pistons be worried about Cade Cunningham?" started to flood the internet. 
No, they shouldn't be worried. Of course they shouldn't be worried. As Jalen Rose points out here, many future NBA legends struggled to find the range early on in their careers. And they were all met with similar extreme overreactions (Tracy McGrady's coach even told him that he would be out of the NBA in three years or less).
Cunningham is a 6-8, 220-pound point guard who can score at all three levels, facilitate for others, rebound like a big man and guard multiple positions on defense. And guess what? After a string of bad games, he played a number of really good ones, too. He dropped 20 points and went 4-8 from deep in a win over the Rockets. He exploded for 25/8/8 and hit five three-pointers against the Kings, becoming the youngest player (20 years, 51 days) in NBA history to put up that stat line. Facing the No. 1 defense in the League (Golden State), he posted 19 points (6/12 from the field), 6 assists and 6 rebounds. Two days later, on a poor shooting night against the Lakers, Cunningham recorded his first triple-double as a pro (13 points, 12 rebounds, 10 assists).
"I didn't pay too much attention to what was being said after I had a slow start," Cunningham wrote recently, as part of a diary series for The Undefeated. "I wasn't going to let it beat me up or change my way of thinking. But I definitely knew what was being said, and I tried to move accordingly. I feel like somebody would be a liar if they said they didn't know what was being spoken of them. But at the same time, I'm not basing how I think off these other people's opinions from the outside. I'm the kind of person that every day is going to get better, and I think that's why I had a quick turnaround.
"A lot of people were trying to say I was a bust. I thought that was pretty funny in my eyes," he added. "That's something I took note of. Like: 'All right. Well, we'll have to see about it.'"
When you watch Cunningham play, a few things stand out immediately: 1) Even in the NBA, he looks massive as a primary ball handler. He uses that size to survey the floor, shoot over defenders and finish at the rim effectively. 2) He can dictate the flow of a game and doesn't move like a normal rookie—that is, he never appears tentative, frantic or out of control, though he can be careless with the ball at times. His pace is very methodical. 3) As the numbers suggest, he does a little bit of everything to help his team.
His efficiency so far would be a much greater concern—perhaps even worthy of those overreactions—if it wasn't clear, based on his past, that Cunningham can be a reliable and consistent shooter. It might take a bit to get there in the NBA, but he's certainly capable. At Oklahoma State, he averaged 20.1 points and shot 40% from three on 5.7 attempts per game. And he doesn't lack confidence in that jumper at all—as of this writing, more than half of his total FGAs have been threes.
But again, even with his struggles, Cade has found ways to be impactful. Just imagine when he really settles in. 
"He's just a pup right now learning the League. I'm not making excuses for him, but if you miss a month of training camp and try to perform, it's difficult," Pistons head coach Duane Casey said amid Cunningham's early struggles, via Rod Beard of The Detroit News. "This is nowhere near where he can be—and will be—as a player."
So be patient. Don't overreact. Keep posting scuffles (especially if they involve an incredible display of athleticism and strength by Cunningham to hold his teammate, Isaiah Stewart, back) and absurd fan videos. Save the hot takes. And watch Cade gradually figure it out. It's already starting to happen.