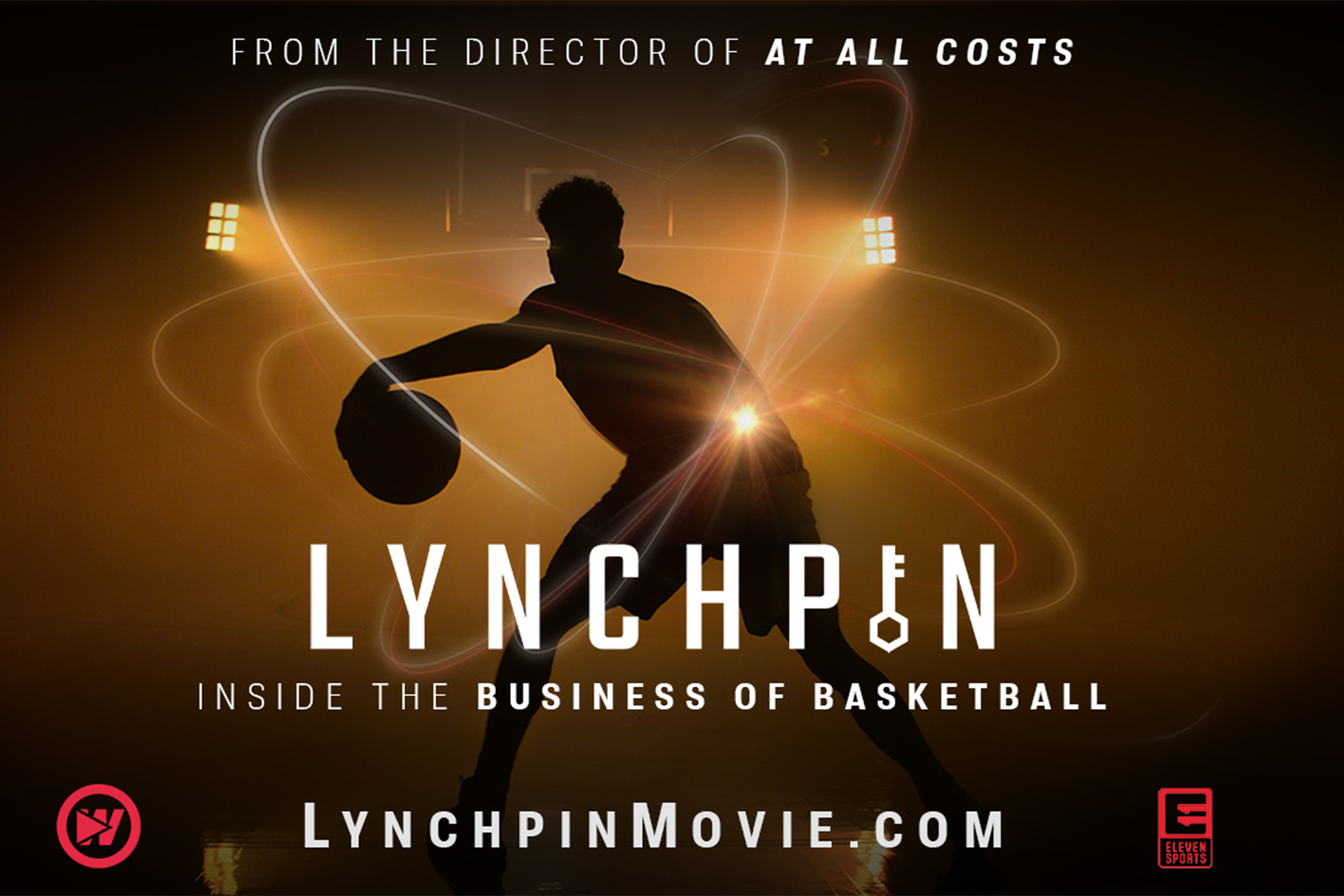 In a mechanical sense, a lynchpin is one of, if not the most vital piece of any massive traveling vehicle—a pin passed through the end of an axle that locks the wheel into position. It is the indispensable piece that makes the machine go, often lost in recognition due to the overpowering size of the locomotive. AAU, college basketball, and the NBA are all structural necessities amongst the entire basketball ecosystem. Amidst them resides the lynchpin, which is the very namesake of Mike Nicoll's latest film, LYNCHPIN: Inside the Business of Basketball.
Nicoll, who directed and wrote the 2016 AAU basketball documentary At All Costs, is back with his latest short film that takes viewers inside the business side of the game. The story of that indispensable piece resides in Compton, CA with Etop (Tope) Udo-Ema, the CEO of the grassroots powerhouse program Compton Magic, as the film follows the hidden hand of the AAU scene leveraging his program's dominance to achieve unprecedented sponsorship success.
"I always tell people the reason I'm so fascinated by it (AAU) is because it's sort of this quintessentially American space, where the streets are colliding with corporate America," Nicoll tells SLAM. "And it has a way of marshaling, like, all of America's core values, if you want to call them that, that are just all bouncing around this space."
As Nicoll sits in the backyard of his producer's house in Los Angeles, he describes the basketball landscape as a solar system, planets rotating in and out of orbit around one another in a cohesive, nuanced balance. Through his own interpretation, he's discovered that people like to think of AAU, college and the NBA as their own separate entities. According to Nicoll, that's the wrong way to look at it.
"They are all interconnected pieces of the same system. Kind of like Lego pieces attached to one another. You can try to pull them apart and look at them as their own thing. But you're gonna miss the bigger picture," Nicoll says.
With the immense star power of Cavs rookie Evan Mobley, UCLA standout Johnny Juzang, and high school basketball sensation Mikey Williams all residing on one team, what holds all the pieces in place? What powers this solar system? Enter Etop, the architect of one of the premier grassroots programs in the country. 
Nicoll describes the Compton Magic CEO as one of the most important people in the basketball space that no one has heard of, unless you're really in the know. The radical access within LYNCHPIN is unparalleled, as Nicoll takes the audience into rooms where major decisions, meetings and negotiations take place between the biggest sneaker companies in the world and one man.
Their relationship has been fostered and nurtured over the course of nine years. Because of the grace and thought to which Nicoll applied to the documentary experience in 2016, he says Etop understood and trusted the cameras and those operating them to capture the truth within the rooms in which they resided. 
A former AAU baller himself, Nicoll's earliest memories of filmmaking came in '02 when his dad would videotape his games. Afterwards, Nicoll would cut together his own highlight reel on iMovie, "the mixtapes way before the mixtapes," he describes. A graduate of USC's School of Cinematic Arts in 2012, the game's impact on Nicoll has been immense. 
"It was, like, massively influential on just the man I became. Honestly, man, basketball has been one of my life's most profound teachers in so many ways," Nicoll tells SLAM.
But to understand how LYNCHPIN came to be, you have to take a step back to Nicoll's first film, At All Costs, which dissects how the AAU basketball landscape has professionalized youth sports. To Nicoll, AAU is a massively impactful space that many people only have a surface level understanding of. How the entire machine functions is answered in the coda to At All Costs, which was acquired by Netflix in 2017. 
When Nicoll and his producers were first trying to sell At All Costs, they kept hearing the same response: "this would make a great TV show." That wasn't in the cards just yet, but once the film was sold, Nicoll went about piecing together how his initial concept could be adapted into a television show, the dream of any filmmaker. Shooting for LYNCHPIN began in early 2019, yet in 2020, like almost everything in the world, the pandemic brought it to a halt.
"When the pandemic hit and kind of unraveled that effort, I was sitting on all this amazing footage I shot and I said, Hey, you know what, there's nothing stopping you from taking all the best stuff you got in here and making it into a film. And that kind of brings us to today," Nicoll says. 
The final product is what Nicoll believes it was always supposed to be, as he reveals that at some point he had to realize the roadblocks placed in front of him couldn't and wouldn't prevent him from molding the footage into the immersive experience that it is today. 
For any director, Nicoll says, this is one of the hardest steps of the journey: putting your art out into the world to be consumed, discussed, enjoyed and critiqued. A solace takes over as he begins to explain how the stars in the solar system perfectly aligned for this groundbreaking film to come to light. 
"It's kind of corny to say [that] I was born to tell the story, but I felt like I needed to, because this world has been such a big part of my life. I don't know if you've ever had anything in your life, where it's like, I know this is here. And I don't feel like I'm gonna be at peace unless I do this."
LYNCHPIN: Inside the Business of Basketball will be streaming globally on November 26th. 
Photos courtesy of Full Surrender Films