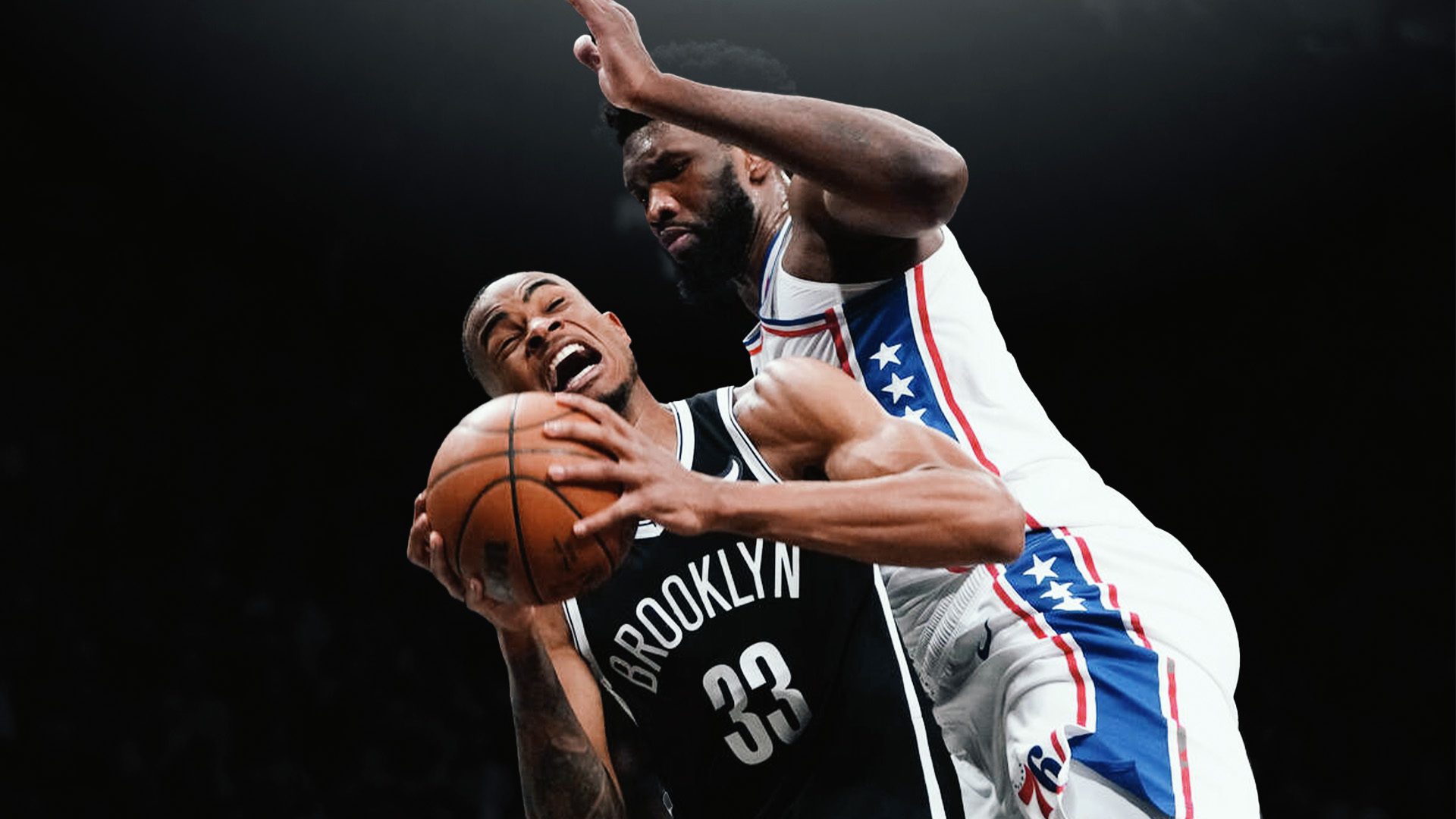 The 76ers Game 3 win over the Nets has been marred by a bizarre series of officiating calls.
Early in the game, MVP frontrunner Joel Embiid blatantly kicked Nic Claxton's groin area from the ground.
Embiid KICKS Nic Claxton after stepping over him 😳 pic.twitter.com/gsOzepO4lZ

— Bleacher Report (@BleacherReport) April 20, 2023
Claxton stood over Embiid following an alley-oop dunk, which Embiid clearly didn't appreciate.
The referees did assess the play but allowed Embiid to stay in the game. The was kick deemed a flagrant foul penalty one instead of a flagrant two, which would've seen him get ejected.
After the game, Embiid was of course asked about the incident, to which he replied: "It takes me a lot to process the games after..I gotta go watch the tape.
"I honestly didn't remember the play."
The decision to let him stay in the game was crazy by the refs, especially considering the events that conspired earlier this week when Warriors star Draymond Green was ejected then suspended for stomping on Domantas Sabonis – a very similar incident.
"I think it's the same thing from the other night," O'Neal said on TNT's coverage.
"This is where I have a problem, what is the law? It looks the same. Draymond kicked down, he kicked up. What's the rule?
"I've seen something like this the other day, but the guy was ejected and suspended."
"I think his is worse than Draymond's," Charles Barkley added.
Later in the game, 76ers guard James Harden was ejected just before the end of the third for a hit on Royce O'Neal. Claxton was also ejected after picking up his second tech foul.
This got James Harden ejected. An absolute joke. pic.twitter.com/m8T4h61eil

— NBC Sports Philadelphia (@NBCSPhilly) April 21, 2023
Harden said after the game that the ejection was "unacceptable".  "I didn't even think it was a foul on me…that just, that can't happen."
James Harden: "I didn't even think it was a foul on me…that just, that can't happen" pic.twitter.com/n08zXeSfvW

— Kyle Neubeck (@KyleNeubeck) April 21, 2023
NBA Twitter shared similar views to Barkley and Shaq on Embiid's kick:
Draymond: Why y'all ain't eject Embiid??

NBA: pic.twitter.com/7kTM8OzdPi

— Jasmine (@JasmineLWatkins) April 20, 2023
Joel Embiid in the first half pic.twitter.com/TioFby21oX

— NBA Memes (@NBAMemes) April 21, 2023
Draymond Green watching Embiid kick Claxton in the nuts pic.twitter.com/mrqWog2M3I

— ⛈️ (@scottsucks_) April 20, 2023
If I'm the Warriors, Klutch, and Draymond… Man, I'm sick. NBA is picking is choosing. Unbelievable hypocrisy one day later.

— Josh Eberley 🇨🇦 (@JoshEberley) April 20, 2023