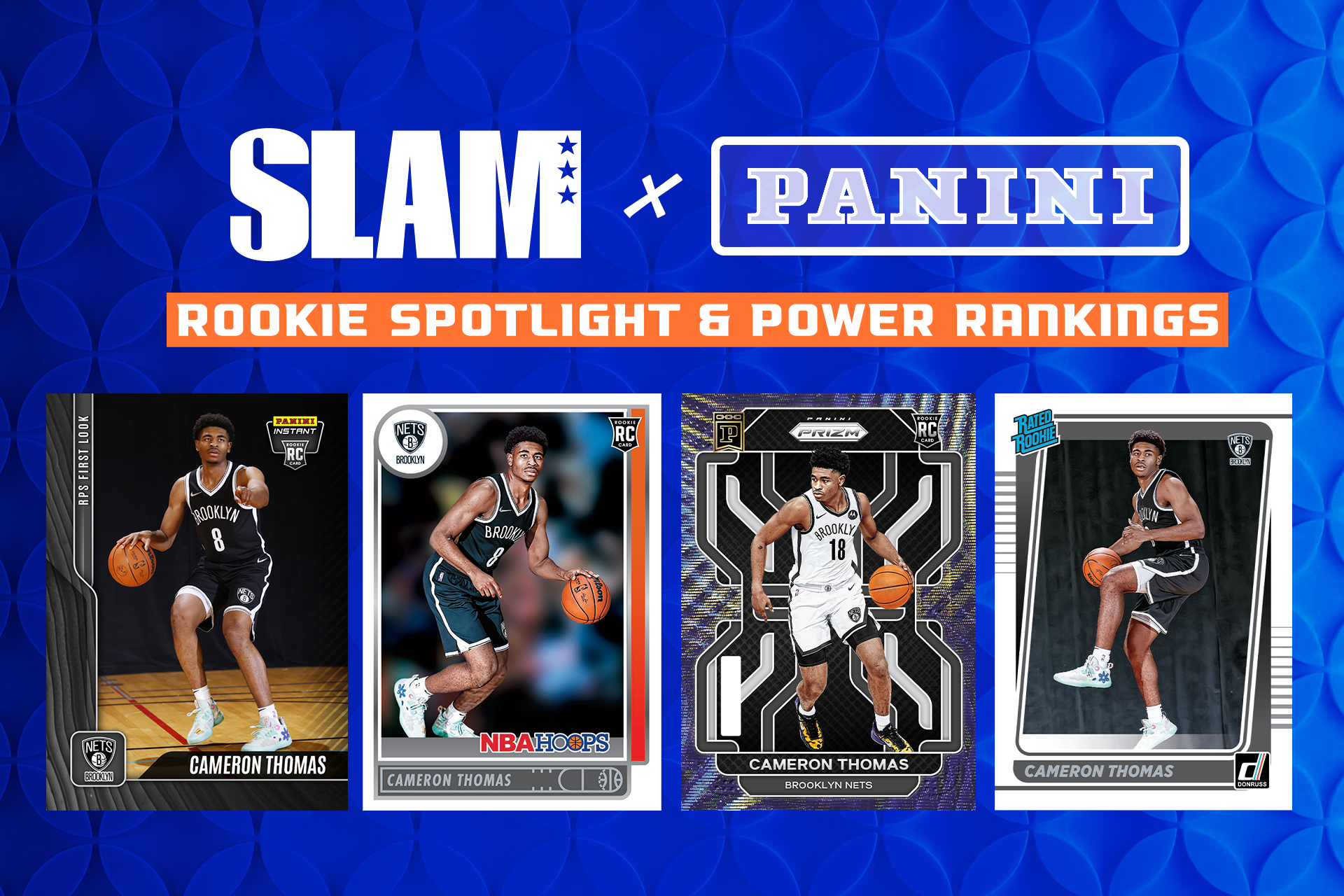 "I told Kevin before coming out of the timeout, 'I'm trying to get on the plane, man, so end the game.' He gave it to me, so I said, I'll do it."
That's Cam Thomas recapping his game-winner against the San Antonio Spurs on Sunday. "Kevin" obviously refers to 11-time All-Star, four-time scoring champ and two-time Finals MVP Kevin Durant. When Thomas said, "I'll do it," he shrugged his shoulders and almost rolled his eyes, as if to suggest "it" was something as mundane as ordering a coffee at Starbucks. 
What "it" really was: Tied at 119-119, with less than 10 seconds remaining, Durant handled the ball up top, drove left, drew a double team and immediately kicked it to Thomas on the weakside. The rookie blew by center Jakob Poeltl, got to the paint and elevated for his signature floater. Game. Time to get on the plane.
Thomas is, and always has been, a scorer. An absolutely dominant, uber confident scorer. 
"When I was about 7, in my first AAU tournament against players from across the country, [it made] me want to pursue a career in basketball," he told SLAM this past summer. "It was a tournament at Boo Williams [Sportsplex]. I'm from Virginia and back then that was the big thing—go to Boo Williams and play in tournaments there. I had 25 points playing up with the 9-year-olds when I was 7. That's when it really made me be like, Well, I might as well just take basketball serious. I had, like, 25 points at every game that weekend."
Fast forward a decade and Thomas had become one of the top high school prospects in the nation. He was named Nike EYBL Offensive Player of the Year in 2019, averaging 29.5 points through 13 games on the circuit. As a senior at Oak Hill Academy, he averaged 31.5 points, 6.0 rebounds and 3.4 assists. He finished his two years with the program as their all-time leading scorer.
In his sole season at LSU, Thomas was just as unstoppable. He led the SEC and all Division I freshmen in scoring (23 ppg), registered the most 20-point games of any LSU player since Shaquille O'Neal in 1992 and was named to the All-Conference First Team. 
Somehow, after all that, he fell to the Nets at No. 27 in the 2021 Draft. 
Thomas isn't the biggest (6-3), fastest or most athletic; but at every level, he has managed to make scoring look easy. He led the entire Las Vegas Summer League in ppg (27.0), hitting multiple game-winners throughout the tournament. Only pure scorers knock down absurd one-legged threes like this:
"Obviously Cam was a much better scorer than I was coming out of college," James Harden told the New York Post in October. "It's just rare you get those guys who can just get a bucket in any form or fashion. But he's young, he learns, he listens and he works his butt off. As a young guy, that's all you can ask for."
The key phrase there: in any form or fashion. Thomas just knows how to put the ball in the basket. He gets downhill, attacks the rim and uses a soft touch on little floaters and bank shots. He navigates around screens for pull-up midrange jumpers. He spreads the floor and can hit off-the-dribble and catch-and-shoot threes.
The most impressive thing about his game, though, is his unwavering confidence. Thomas is completely fearless, even playing alongside superstars like Durant, Harden and Kyrie Irving. The big moments don't seem to rattle him at all. Obviously his role on the Nets is far different than at Oak Hill and LSU (and in the G League, where he dropped 46 a few months ago), but the 20-year-old has maintained his aggressiveness. In the month of January, he has averaged 12.8 points on 48 percent shooting off the bench.
To give you a sense for just how confident Thomas is—apparently he likes to talk trash to KD. "I say that I think I'm a better scorer at my age than he was," Thomas told reporters. "He doesn't believe that. And then he never wants to play me one-on-one. We played one-on-one in shootaround one time—post-ups—and I beat him. Don't tell him that. I beat him."
Durant, of course, remembered that game differently. "Cam's lying. He's lying, for sure. I definitely beat him," he said. "We were at shootaround and I beat him—15-5, matter of fact. It's an ongoing game so the score doesn't start over. At the end of the season, we're going to tally up the points. But he's down a lot."
Trash talk aside, Durant obviously sees the potential in Thomas. When that double team came against San Antonio, he didn't hesitate to kick it to the rookie. And Thomas, very calmly, did what he has always done.