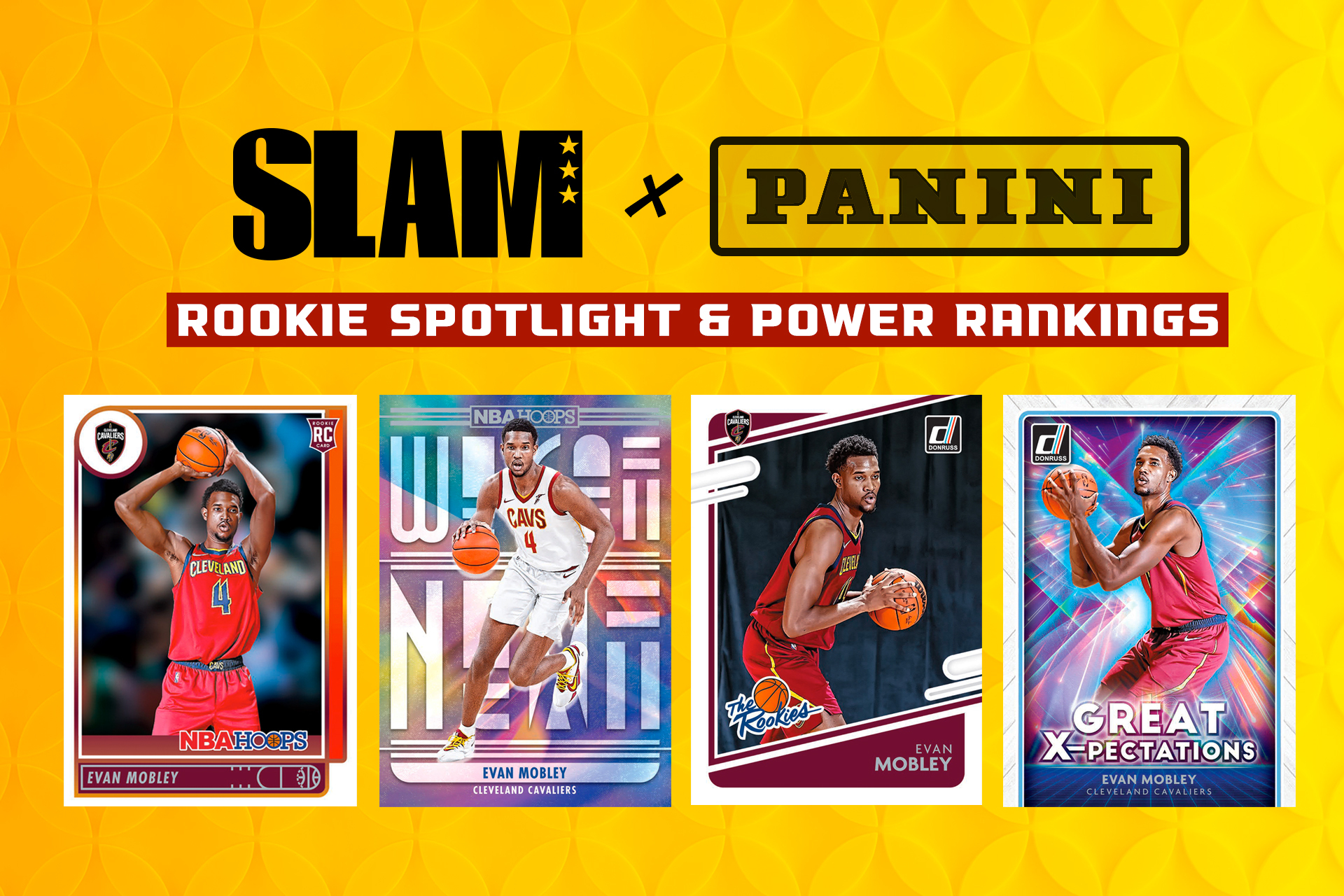 There's a new type of highlight starting to regularly circulate on social media. It's Evan Mobley, rookie center for the Cleveland Cavaliers, contesting and altering shots. 
I know—sounds boring. The clips got lost on my Twitter timeline (which is really just an endless stream of basketball highlights) at first. But they just kept popping up. And the captions just kept getting more and more audacious. Words and phrases like "a force," "incredibly dominant," "generational," and "all-defense" became increasingly harder to ignore. I clicked play on the video you see below and… wow. 
Of course, that montage includes more than just contests—monster blocks, deflections, steals and a Collin Sexton poster snuck in there. But I was also thoroughly entertained by the segments that showed Mobley, a true seven-footer, shuffling his feet to stay in front of a guard up top and then extending his never-ending arm to simply create a bad shot attempt. At one point, he is matched up against the uber-confident Reggie Jackson, who naturally tries to shake him with a couple fancy crossovers. Jackson appears to gain some separation—just a sliver of a cushion to get his shot off—but Mobley uses his 7-4 wingspan and absurd athleticism to immediately close the gap. Even for Jackson, the degree of difficulty on the eventual jumper is extremely high. I mean, how do you even see the rim when Mobley leaps like that? (Please post more clips like this.)
Cleveland took Mobley with the third overall pick back in July largely because of his potential on defense. He averaged 2.9 blocks per game and was named Pac-12 Defensive Player of the Year in his sole season at USC. His versatility on that end—being able to switch onto perimeter players seamlessly and protect the rim like a traditional big—is reminiscent of all-defensive guys like Anthony Davis and Bam Adebayo. Here's another clip from the Twitterverse, of Mobley containing the shifty Trae Young: 
For all the hype surrounding Mobley heading into the draft, he has exceeded expectations so far this season. He is doing "dominant," "generational" things on defense—leading the entire NBA in contested shots per game (15.1) and averaging 1.3 blocks and 1.1 steals. Cavaliers head coach J.B. Bickerstaff has been exploring different ways to take advantage of Mobley's gifts, employing him at the top of a 3-2 zone that proved very effective in a 101-95 win over the Hawks, who shot just 32% in the second half. 
"Seeing Evan's ability to move through that made me think of when [Kevin Garnett] was playing at the top of that zone [in Minnesota]," Bickerstaff said afterwards, via the Akron Beacon Journal. "So over the summer we went and studied it a bunch and put it in, and tonight it was really good for us.
"That position [Mobley] plays in that zone is not an easy position," he added. "You've got to quarterback it from the front and also see and be aware of what's behind you."
Teammate Kevin Love also praised Mobley's performance in the zone. "He's got a huge future in front of him," Love said. "It doesn't surprise me that he's able to do that. In my mind, he's going to make a number of all-defensive teams in his career. So he's just getting started. Once he really goes through the league a couple of times, like any rookie, once he figures it out, realizes how good he is, you're going to see him make those teams." 
Mobley has been a real factor on the other end, too. He scores within the flow of the offense—constantly moving, crashing the offensive glass for vicious putbacks (see below), setting screens and rolling to the rim for easy lobs. He's already averaging 13.3 points (on 49% shooting from the field), and that number should only increase as he gets more comfortable and confident in his jumpshot. 
In the NBA's annual GM survey, released at the beginning of October, not a single person predicted Mobley to win Rookie of the Year. He did, however, receive the most votes (33%) in response to the question: "Which rookie will be the best player in five years?" So GMs expected big things—just not right away. But Mobley is already contributing significantly, helping Cleveland get off to a 5-4 start and sending Twitter into a frenzy on a nightly basis. 
LeBron James probably summed it up best after his Lakers played the Cavaliers last Friday, and Mobley finished with 23 points, 6 rebounds, 3 assists and 2 steals: "He's going to be a damn good basketball player in this League." The King has spoken.