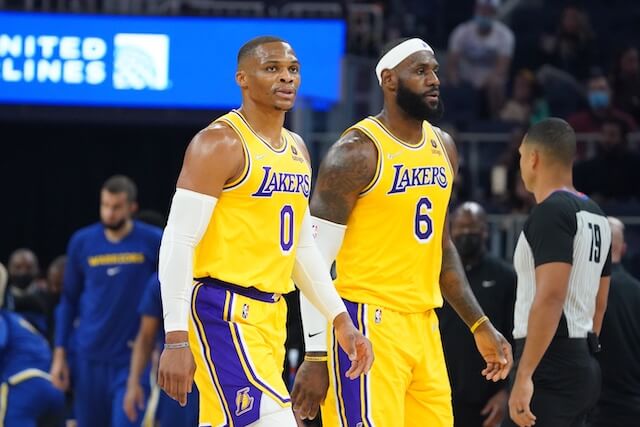 The Lakers' Russell Westbrook experiment was a huge failure this season, and reports indicate the Houston Rockets have a standing trade offer for the maligned guard.
Still, there is no word on whether the Lakers are considering sending Westbrook to Houston or trading him at all.
According to Yahoo Sports Chris Haynes, Houston offered injured guard John Wall for Westbrook and a first-round pick before the trading deadline, and the offer still stands, but the Lakers have been adamant about holding on to their picks.
Rumors also had Charlotte as a possible landing spot for Westbrook and his $47 million owed next season, but new rumors suggest Westbrook may not be going anywhere.
LA Times reporter Bill Plaschke appeared on the Dan Gottlieb Show after having a sit-down interview with Lakers owner Jeanie Buss and said bigger changes may be coming.
"I've heard that Phil [Jackson] would like LeBron traded. I've just heard that. But I've got nothing to back that up," said Plaschke. "I do know that Phil would like to keep Westbrook and try to make it work with him."
Buss has been consulting with the Lakers' former coach, who ESPN's Adrian Wojnarowski reported is "significantly involved" in the Lakers head coaching search.
Despite Jackson's possible wishes, Plaschke said that Buss has no intention of trading James.
The three-time champion is expected to break Laker great Kareem Abdul Jabbar's scoring record next season.
Since James joined the Lakers in 2018, the team has had two losing seasons, one first-round playoff exit, and a bubble title.
The 2021-22 season was the team's worst outing, finishing at 33-49.
The Lakers have interviewed former coach and TV analyst Mark Jackson and former Portland Trail Blazers coach Terry Stotts.
Philadelphia 76ers coach Doc Rivers is also a possible candidate, but the Sixers would need to bow out in the second round for Doc to get a shot at the job.