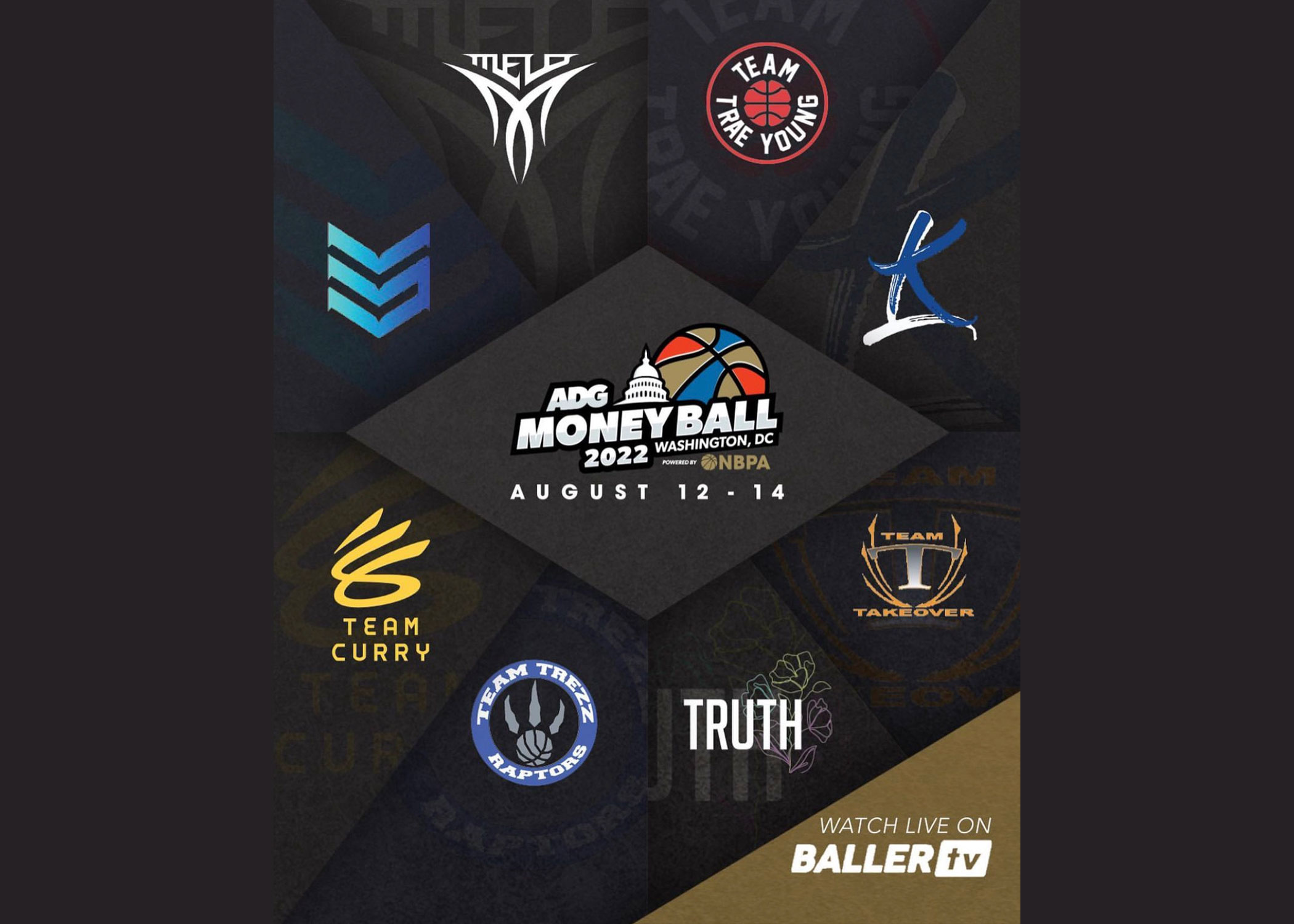 The National Basketball Players Association (NBPA) and the Athletic Development Group (ADG) are pleased to announce ADG MONEYBALL, an amateur basketball showcase including financial literacy and Name, Image and Likeness (NIL) workshops. The inaugural event launches in Washington D.C. from August 12-14, 2022, at the Walter E. Washington Convention Center. The showcase will feature eight (8) 17U boys elite travel teams with NBPA member affiliations. In addition to the competition on the court and educational workshops, the NBPA Foundation will support a visit to the National Museum of African American History and Culture on the evening of August 12. The teams will also attend dinners together throughout the weekend, one of which will include a fireside chat with Baron Davis, 2x-time NBA All-Star and current media and tech investor, and Que Gaskins, Chief Brand & Growth Officer for the NBPA and interim President of THINK450, the NBPA's innovation and content engine.
The teams competing in the showcase include: 
1.     K-Low Elite (Kyle Lowry)
2.     Team Curry (Steph Curry)
3.     Team Durant (Kevin Durant)
4.     Team Melo (Carmelo Anthony)
5.     Team Takeover (Victor Oladipo)
6.     Team Trae Young (Trae Young)
7.     Team Trezz (Montrezl Harrell)
8.     Team Truth (Quinn Cook)
Games will begin on Friday, August 12 and run through Sunday, August 14. See here for the full schedule of games.
"We are thrilled to host this first-of-its-kind showcase featuring some of the outstanding travel teams of several of our members," said Tamika Tremaglio, NBPA Executive Director. "Our players are so passionate about teaching the game to the next generation, and this showcase is about supporting their work in that space. By creating this platform with our players, we are building a unique experience for their teams to compete against one another while also providing critical educational resources — all in one of the best basketball cities in the country and my hometown, Washington D.C.!"
"This showcase is a great opportunity for these young players to prove themselves against other top talent from around the country and learn more about important topics off the court," said Trae Young, NBPA member whose team will compete in the inaugural showcase. "To have all the teams competing affiliated with different players around the league is really special and I know I can speak for all of us when I say we will be closely following to see whose team really is the best."
"We know it is highly critical to educate these young athletes now so that they can make informed financial decisions throughout their careers," said Mark Jerome, Managing Partner, the Athletic Development Group (ADG). "We created and designed ADG MONEYBALL with that in mind, bringing in former players and experts to speak about financial literacy and NIL to set them up with the tools to succeed down the road."
ADG MONEYBALL is presented in partnership with Chase and with the generous support of Events DC. Additional partners include ShowBall, BodyArmor, SLAM, Legends, and BallerTV.
"We are so excited to continue our partnership with the NBPA and provide important financial literacy content to these incredible student-athletes," said Frank Nakano, Managing Director of Sports & Entertainment Marketing at JPMorgan Chase. "Understanding the significance that financial health plays in long-term well-being, we hope our educational sessions are able to help these athletes further develop their off-the-court confidence, especially in the arena of financial literacy"
"Events DC is honored to host and support the inaugural ADG MONEYBALL event at the Walter E. Washington Convention Center," said Ralph Morton, Senior Vice President and Managing Director, Sports & Entertainment Division at Events DC. "Bringing together the nation's top student-athletes in partnership with the NBPA and ADG combined with dynamic educational workshops is an exciting opportunity to create a valuable and enduring experience in the District. We are looking forward to presenting this elite amateur basketball tournament to the fans and our greater community from the heart of downtown Washington, DC."
ADG MONEYBALL is open to the public and tickets can be purchased at www.adgmoneyball.com. For media interested in covering the event, please email [email protected] with your request.