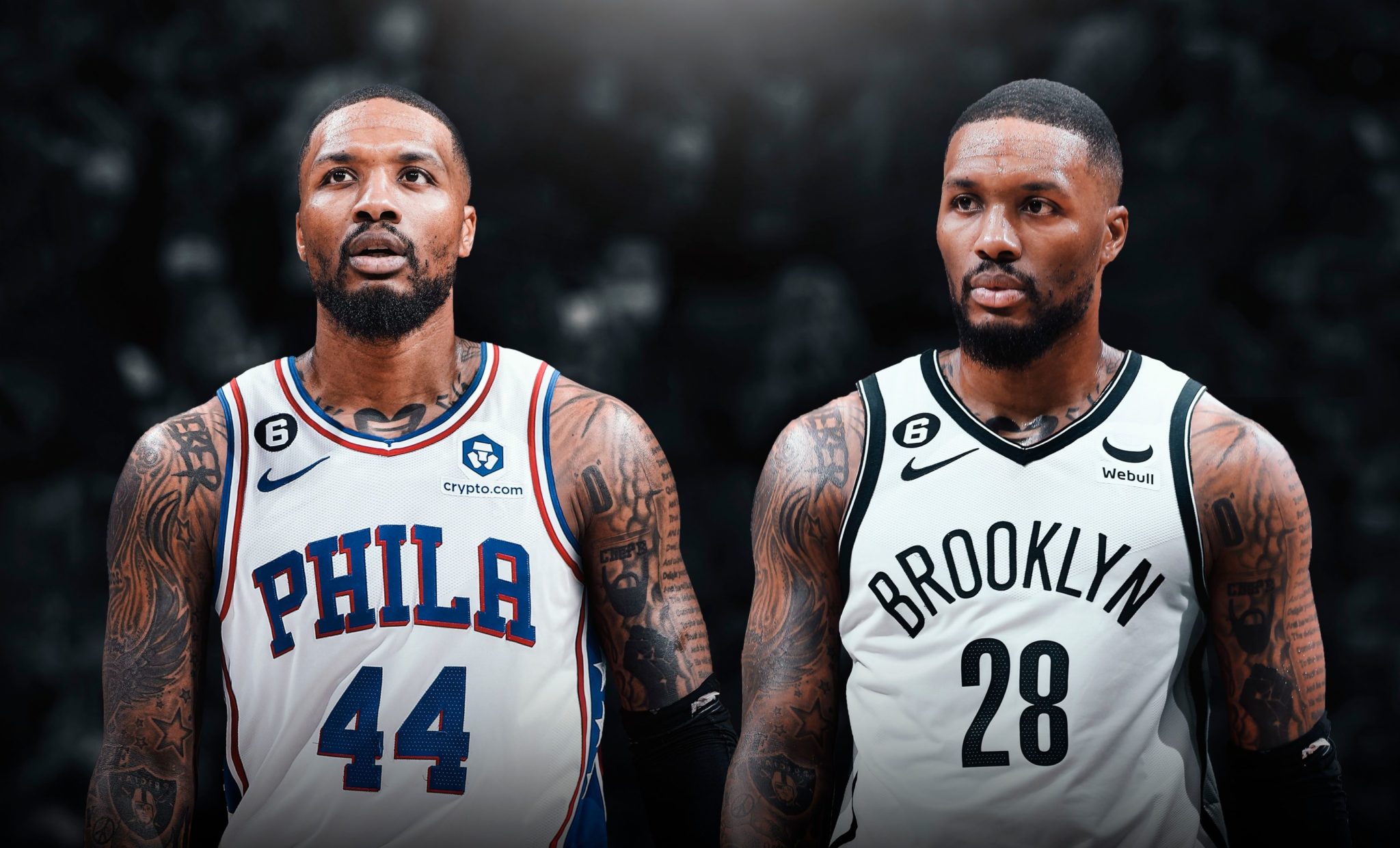 NBA fans hadn't considered the possibility of a Damian Lillard trade until he was spotted courtside today at Game 3 of the Nets vs. 76ers playoff series.
Lillard has been pretty vocal lately about how something's got to give at the Blazers as they failed to make the postseason and on Thursday he well and truly put the Blazers on notice.
Dame in the building for Sixers-Nets ⌚️#NBAPlayoffs pic.twitter.com/Pgh8xVsNoY

— NBA on TNT (@NBAonTNT) April 20, 2023
Only one NBA Insider had speculated that Lillard could end up in Philadelphia before Thursday, as they look to replace James Harden, who is rumored to be heading back to Houston.
But now NBA Twitter is going crazy with speculation that Lillard could join either the Nets or 76ers this offseason.
Damian lillard to the nets will hit crazy pic.twitter.com/eca6tfMZe3

— KyrieIrvingBurner (@Kyrieirvintgoat) April 21, 2023
It's time 🔥 @Dame_Lillard @BrooklynNets pic.twitter.com/9XCAXHNBAx

— KTB (@NyTyson1k) April 21, 2023
Damian Lillard, Mikal Bridges, & co. are winning the eastern conference next year

— Sprite Lee 🧪🦠 (@toiletboy40) April 20, 2023
Damian Lillard, you are a Brooklyn Net

— Luke Schatzberg (@lukeschatz) April 20, 2023
Damian Lillard out here checking out his future team!! I know that's right 👏🏾👏🏾

— Tasha Renee' (@TashaReneenc) April 21, 2023
damian lillard to the sixers confirmed

— matty healy hate account (@sc0ttstr33t) April 20, 2023
Damian Lillard a 76ers next year 💪🏾

— KT GAMING 2022 (@G2020kt) April 21, 2023
Earlier this month, Lillard hinted at a potential exit if the team can't draft Victor Wembanyama or make any meaningful offseason moved. He made it very clear he isn't interested in a rebuild.
In an interview with ESPN's Stephen A. Smith, he dropped a very pointed message to Portland's front office.
"It ain't a threat," Lillard said. " I ain't gonna say I'm putting them on the clock, I'm just saying if those things can't be done, (if) we can't do something significant like that then we won't have a chance to compete on that level. Not only will I have a decision to make, but I think the organization will too because at that point, it's like, 'Are you gonna go young or are we gonna get something done?'
"I think we just kinda been on the fence with fully committing to either one. I just think we at that point now where everybody wants to win. They believe I deserve that opportunity.
"I think this is our most important offseason since I've been here," he added.