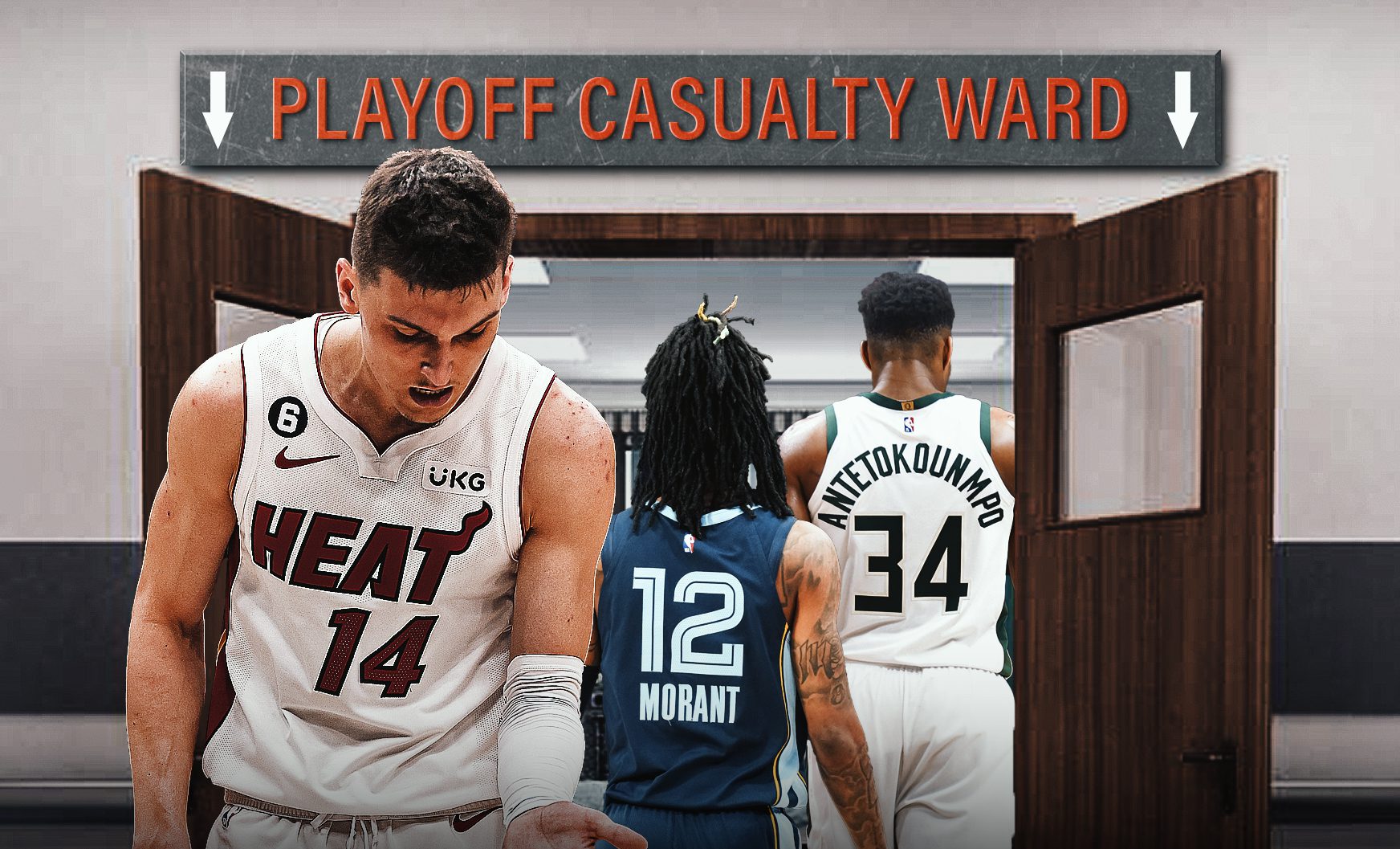 It was has been an absolute war-zone (injury wise) the first two days of the Round 1 Western and Eastern Conference NBA Finals.
Plenty of big stars have been injured, which may change the path of the postseason, so we're going to take you through the most important updates below.
JA MORANT
Ja Morant suffered a nasty right hand injury in Memphis' 128-112 loss to the Lakers on Sunday after attempting a dunk over Anthony Davis.
Ja Morant exits the game with a hand injury. Looks pretty severe pic.twitter.com/zov2gOLcqs

— LakeShowYo (@LakeShowYo) April 16, 2023
The point guard apparently re-aggravated a bruise on the same hand he suffered against the Bucks in their second-last regular season game. He played Sunday's game with the hand taped around the knuckles.
An X-ray taken after the game was negative, but Morant said his pain level was "about a 10."
He says there is "doubt" that he will play Wednesday in Game 2 against the Lakers and was visibly very downtrodden when speaking to the media.
"It's very tough, stressful," Morant said. "Obviously, I feel like you guys can tell my body language and stuff now. Pretty much taking what happened, I don't know, I'm numb to everything right now. It's like, I'm not even surprised. It's one thing after another."
In good news for Memphis fans, the team went 6-3 during Morant's suspension at the back end of the season and, in 2021-22 went 20-5 in games he missed to injury.
GIANNIS ANTETOKOUNMPO
Bucks star Giannis Antetokounmpo suffered a lower back contusion, which saw him only play 11 minutes in his side's 130-117 loss to Miami.
In the first quarter, Antetokounmpo drove for a layup but collided with Kevin Love, who stood his ground for a charge. The power forward fell on his back and stayed on the floor in pain before eventually getting up.
Giannis with a scary fall 😳

Fortunately, he's ok 🙏 pic.twitter.com/QaShNkKoUi

— Bleacher Report (@BleacherReport) April 16, 2023
He returned to the game with his back taped but had to leave the court again due to the pain.
Bucks coach Mike Budenholzer told reporters after the game that an X-ray came back "clear." "We'll monitor him and see how he wakes up tomorrow," Budenholzer explained.
During the regular season, the 2021 champions were 47-16 with Antetokounmpo in the lineup but without the "Greek Freak" they were 11-7.
TYLER HERRO
In the same game, Heat guard Tyler Herro broke his right hand while diving for a loose ball during the second quarter on Sunday.
He stayed in the game until halftime but was clearly in pain, holding his right hand while before bravely attempting a three with 32 seconds left.
Tyler Herro was in pain after an apparent hand injury pic.twitter.com/k6OUQMt5JD

— Bleacher Report (@BleacherReport) April 16, 2023
"He's not going to play the next game, and then we'll just figure it out," Heat coach Erik Spoelstra said. "I got the same diagnosis that you all heard."
Following Spoelstra's comments, Chris Haynes reported that Herro is expected to be out 4-6 weeks after breaking the middle and ring finger on his shooting hand.
ANTHONY DAVIS
Lakers forward Anthony Davis suffered an apparent right arm injury in the first half of the Lakers' meeting with the Grizzlies.
Davis took contact while securing a rebound in the second quarter and immediately grabbed his right shoulder and could be seen on the broadcast saying "I can't move my arm" before being taken to the locker room.
Anthony Davis asked for a sub after suffering an apparent arm injury on this play. pic.twitter.com/bX3TRXiTwz

— ESPN (@espn) April 16, 2023
Lakers fans' hearts jumped out of their chest before they were filled with rage at yet another injury scare for the big man.
According to ESPN's Adrian Wojnarowski, Davis "is believed to have sustained a stinger on his right arm…"
Lakers star Anthony Davis is believed to have sustained a stinger on his right arm, but is still undergoing testing, source tells ESPN. He hurt shoulder late in second quarter of Game 1 vs. Memphis.

— Adrian Wojnarowski (@wojespn) April 16, 2023
Davis returned to the court and the finished the game with 22 points, 12 rebounds, three assists, three steals and five blocks.
MASON PLUMLEE
Clippers center Mason Plumlee had his right hand tended to during the second quarter of Game 1 against their 115-110 win over Suns on Sunday.
Plumlee came off the floor with an apparent pinky finger dislocation and didn't come back in the first quarter, but came back in the second with his finger taped up.
Mason Plumlee's pinky. 😳 pic.twitter.com/8W9ix0OzTM

— Hoop Central (@TheHoopCentral) April 17, 2023
The big man was a +8 in seven minutes with three rebounds and an alley-oop dunk.
Other NBA Injury News: Jaylen Brown's Hand Injury Potential Concern for Playoffs Remainder