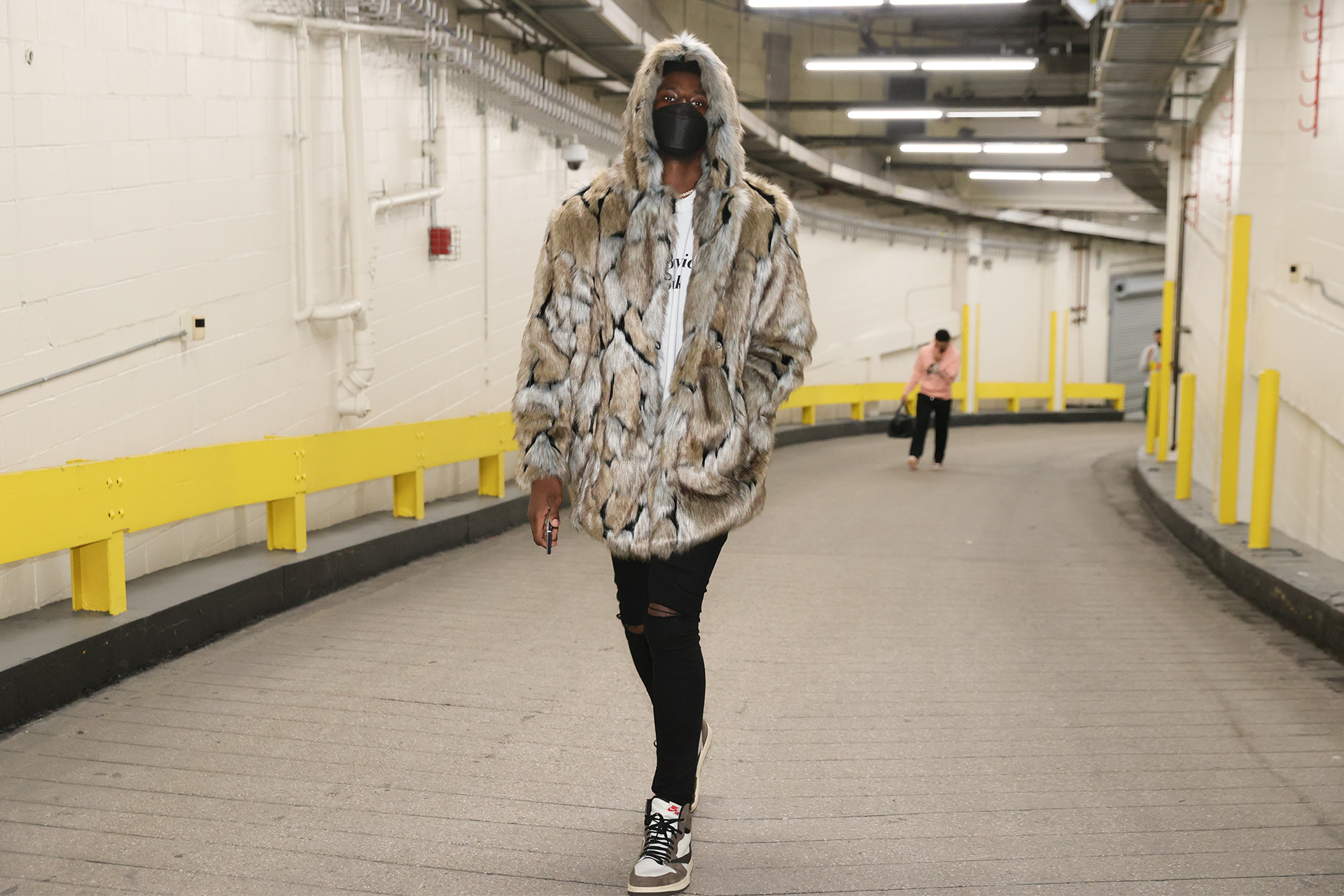 The late-October forecast in Portland calls for 57 degrees and rain. Perfect Oregon fall weather. But Memphis Grizzlies power forward and budding fashion star Jaren Jackson Jr doesn't seem concerned about the conditions.
"To be honest," says Jackson Jr, "I'm outside for probably a total of, like, 20 seconds a day. I never care. I walk outside from the hotel to the bus, get on the bus, the bus pulls into a garage, I get out and walk in. I'm gonna wear what I want."
However brief the catwalks, the 22-year-old makes the most of the moment. Leather, bold prints and blinged-out choker necklaces tend to accentuate his pregame looks. Between games, he'll throw a pair of $1,200 Gallery Dept. jeans, a faux fur and some exclusive Dunks onto his IG feed, too.
"You're supposed to talk with clothes," says Jackson Jr, who says stylist Toni Lowe is as vital to his life as his phone. "I'm just trying to dress to let other people know they can wear whatever they want. That's really the goal. This is the best quote in the world and it's by me: Clothes are amazing because they don't speak. That's why I love clothes."
Over his first few pro seasons, Jackson Jr has fashioned himself as a nice high-flying complement to Memphis sensation Ja Morant. Two weeks into a 2021-22 season that he hopes is a bounce-back year from the injury-plagued '20-21 campaign that limited him to just 11 games, Jackson Jr's averaging 12 points, 5 boards and at least one head-turning outfit per night—whether at the FedExForum or on roadtrips. 
And speaking of trips, the Virgil Abloh (rest in peace)- and Ian Connor-inspired hooper hints that his runway shows will be moving from NBA arenas to the global stage soon. "Not everything that's great is in the States—just know that," says Jackson Jr, while keeping specifics close to the custom-fitted vest. "I'm going to be pushing other projects. You'll be seeing me more in a corporate-clothing way. I'm still the same person who wears crazy shit, but I'ma definitely go corporate on y'all."
---
Photos via Getty Images.