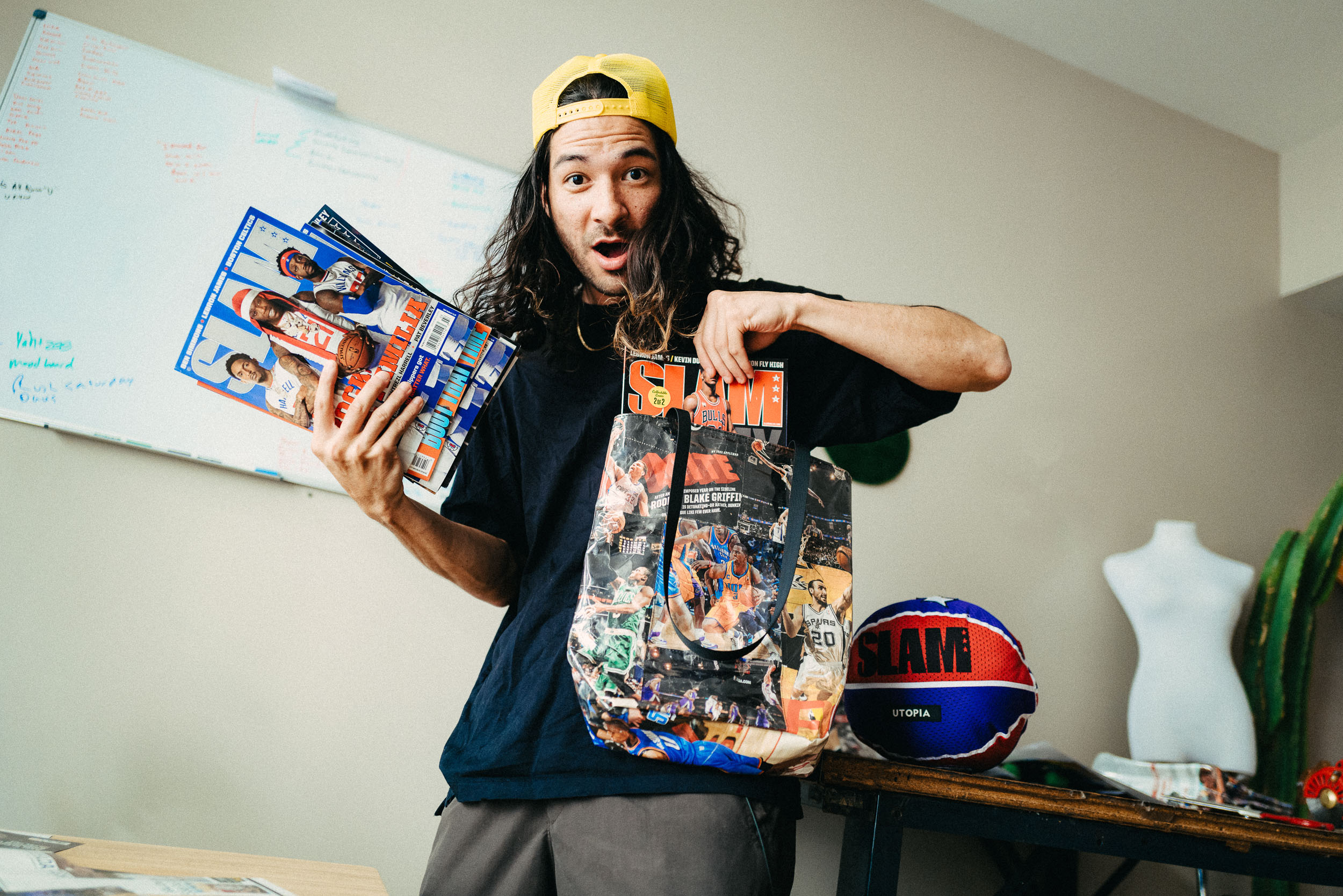 SLAM's ØNE 'N DØNE campaign is a celebration of hoops culture by creating products made to inspire, amplify and honor iconic basketball moments and stories. Shop now.
Collaborating with artists and influencers across a variety of genres is the cornerstone of  SLAM's ØNE 'N DØNE series, which celebrates the game we love. It's about seeing the beauty
in the sport of basketball through a unique lens, re-energizing classic moments and materials and giving them new life by reimagining their purpose. 
For just that reason, the ØNE 'N DØNE collaboration with Peder Cho makes all the sense in the world. The Wisconsin native gained notoriety on TikTok for his DIY-style of upcycling upscale materials, like a worn Louis Vuitton handbag or a Gucci dust bag, and turning them into new, authentic one-of-one items. 
In an effort to help lead to more sustainability, Peder Cho, founder and designer of Utopia, is upcycling 75 totebags constructed with SLAM's 27-year-old archives.
The new-age, environmentally conscious designer didn't get to where he is by attending a design school or working as an apprentice for a veteran designer. Cut and sew wasn't in his future. Rather, after attending Marquette University—where he was a sports marketing intern for the men's basketball team and often practiced with the women's squad—Cho got a job working as an accountant. His life in finance seemed good, but he felt no passion for the work. 
That all changed when he discovered a new hobby, learning how to sew at his father's tailoring company. Cho soon tapped into his old NBA jersey collection to make new, upcycled pieces. His skills turned into fashion, and he took both his design inspiration and a desire for something different to create DIY projects his way. Aside from using OG jerseys to build up his new craft, he also credits life lessons he learned from hoops that helped him get this far. 
"What I learned the most from hooping is that you've just got to care only about one thing," says Cho. "Like, if you really want a mean jumper, you've got to be shooting a lot. You're not just going to wake up and have it. You want the handles, you've got to be hooping a lot. So I thought if I want to be cold at sewing, I've got to be sewing a lot. And, like, endlessly."
SLAM x Utopia—The Reinvention of The Game presents a different application for the tattered and torn up gear of our old drops. Cho has upcycled 15 basketball pillows constructed out of SLAM apparel.
At the beginning, Cho was making items for himself and his friends, but before he knew it, a full-fledged business was created, one that saw celebrities and fashion houses reaching out to work together.
Using his skill and social media platform, Cho turned hype into substance by creating Utopia, his custom brand. Among the companies who have commissioned him for bespoke pieces are Target, Reebok, Nike ACG and Jordan Brand. He's also created pieces for NBA players like Tyrese Haliburton. 
Loving ball the way he does, Cho says working with SLAM on "The Reinvention of the Game" collab is a testament to what Utopia stands for. 
"NBA players have to reinvent their game throughout their careers if they want to stay in the League," Cho says. "We took that same idea, but using old magazines from years ago, old stock, to make a tote bag. And now you have all these memories from this old time. Someone might have owned this SLAM Magazine and feel like they want this one for that exact reason."