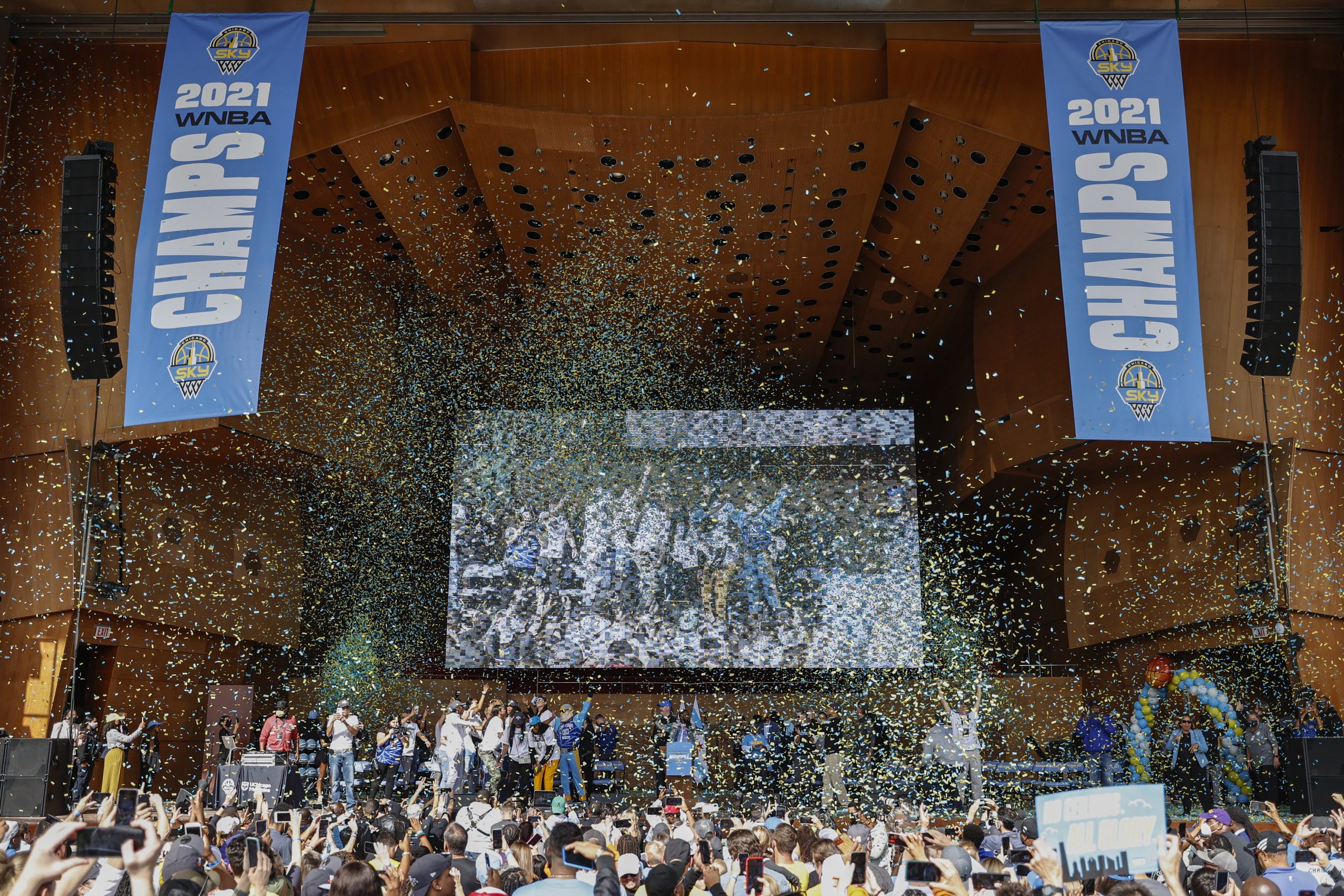 The city of Chicago showed out time and time again for the Chicago Sky's 2021 WNBA championship run. Skytown showed up one yet again to celebrate the Sky's first-ever WNBA championship as fans flooded to Pritzker Pavilion to commemorate the city's first championship celebration since the Chicago Cub won the 2016 World Series.
"We deserve this moment and we worked so hard for it," said Diamond DeShields per NBC Chicago. "So definitely just been enjoying ourselves. Man, it's been great. Also along with the entire city, like, the love, the way the city showing up for us – it's just incredible. Something I'll never forget and I wouldn't want to do it with another group, this is it. This has been amazing."
The celebration for the 2021 WNBA champs began at Wintrust Arena where the team took Game 3 and Game 4 as party buses brought the team along Michigan Ave before making their final stop in Millennium Park.
Mayor Lori Lightfoot, Gov. J.B. Pritzker, Chance the Rapper and even the locker room door that Diana Taurasi reportedly broke post Game 4 were in attendance for the celebration.
Live from Chicago 💀 @chicagosky has surpassed every level of petty 😭 pic.twitter.com/LsvBvoIaGR

— WSLAM (@wslam) October 19, 2021
Hundreds of fans rocking teal and yellow trimmed jerseys cheered on each player as they were announced. The crowd went ballistic when Finals MVP Kahleah Copper graced the stage, followed by Chance the Rapper, who led the crowd in a swag surf.
SWAG

— Chicago Sky (@chicagosky) October 19, 2021
Head coach James Wade let fans know that this was just the beginning:
"Remember the seat you are sitting in right now, Wade said, because we are going to make sure you are sitting in the same one next year."