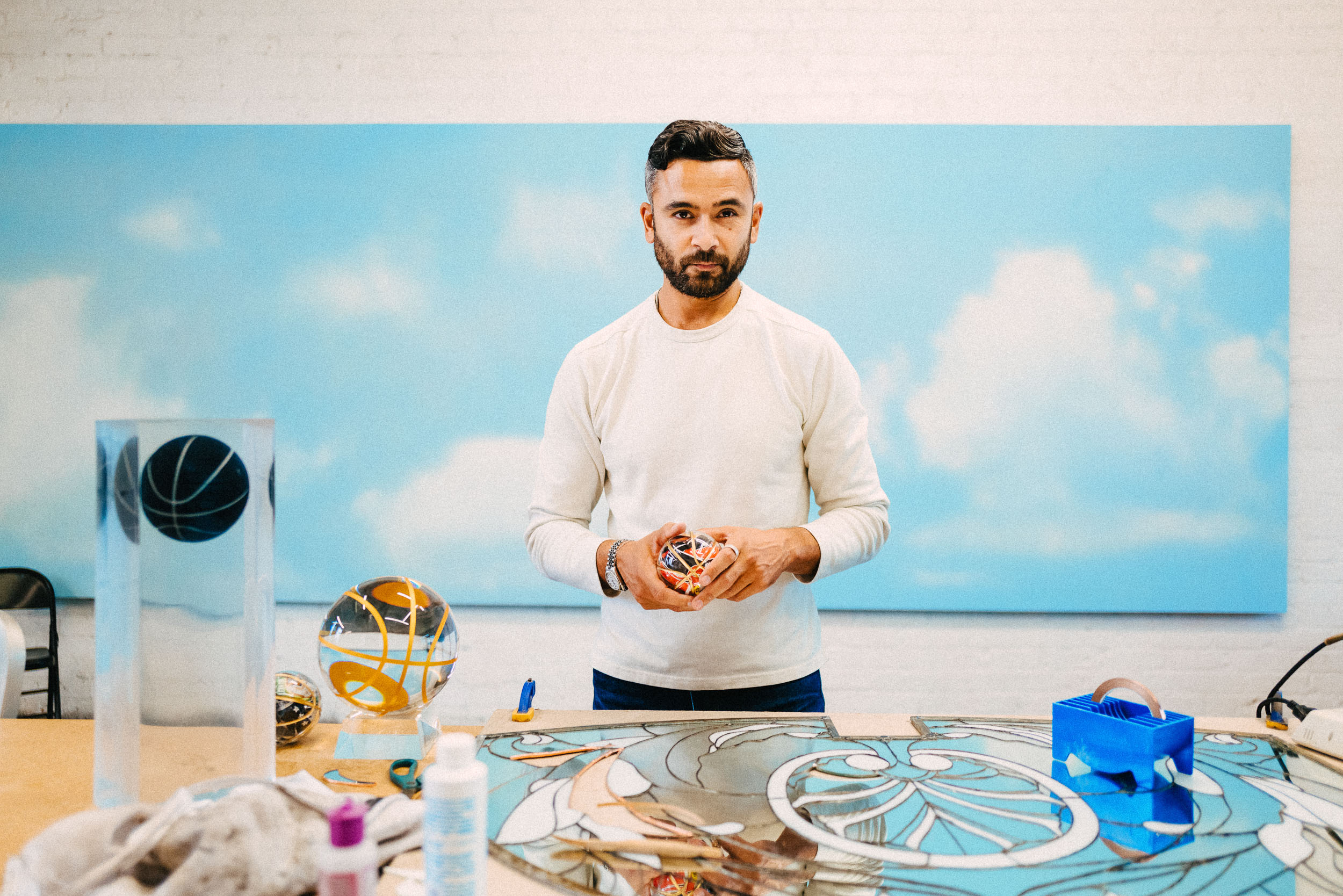 To celebrate the launch of SLAM's ØNE 'N DØNE, artist Victor Solomon has canonized the SLAM archive within the literal and metaphorical vessel of sport for the NBA's 75th anniversary. Shop now.
In the age of the constant scroll, multidisciplinary artist Victor Solomon seemingly does the impossible. With his distinctly unique take on the blend of art and hoops, he grabs your attention, not with a gimmick but by sparking curiosity. Like Magic Johnson throwing a no-look pass on a fast break in the '80s or Luka Doncic working his Luka magic to find a teammate no one else had a clue was open, Solomon's pieces draw OMGs from his audience by being the modern thread between classic and unprecedented.
But just like the aforementioned point gods, Solomon's medium isn't really just the sport of basketball. It's creativity in itself. He doesn't force his art. He can't. He just reads the defense of limitation and reacts by creating his one-of-a-kind pieces dedicated to the game. 
"I think the journey of anyone getting into this creative kind of art space is very mysterious with the way that it plays out," says Solomon. "I was always drawn to creative pursuits. It was fun for me to come up with ideas and then work back for what creative execution would be required for that. I had this idea that would be a really good painting. Or a really good film and then letting the idea dictate how you explore creativity to get to that destination." 
Growing up in Boston, Solomon often felt as if he didn't fit in with his surrounding community, but he used basketball to find common ground with his peers, cementing his love for the game and the community it creates. After moving to San Francisco to pursue a career in film, he soon became immersed in the city's unique approach to stained glass work. While apprenticing under the tutelage of glass work artists, Solomon created a stained glass backboard and posted a picture of it on Instagram in 2015 with the hashtag #literallyballing. 
Fast forward to 2021 and Solomon's Literally Balling series has taken him to shows at Miami's famed Art Basel and across the country. He's sold pieces to LeBron James, Kevin Durant, Paul Pierce, Swizz Beatz and Rick Ross (to name a few), and collaborated with KITH, Hennessy and the NBA. Solomon is also kicking off SLAM's ØNE 'N DØNE campaign, a celebration of the game we love, as the first of many creatives whose collaborations will drop throughout the season. His piece, the Archive Halftime Vessel, a crystal basketball with hand-painted gold enamel seams, is filled with some of SLAM's 28 years of magazines and represents preserving SLAM's history through the lens of a permanent piece of art. The collaboration includes 75 pieces, all unique from each other.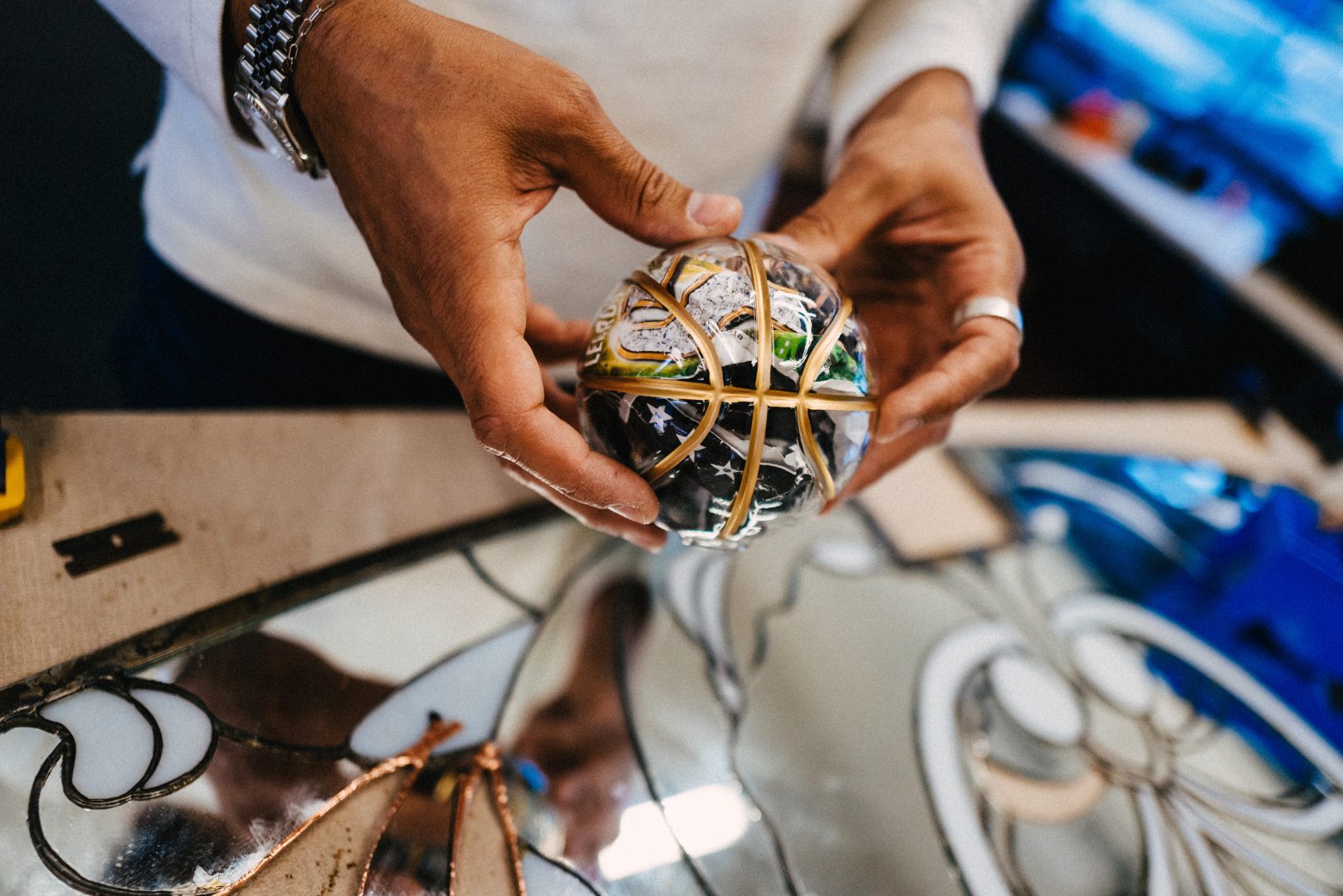 "When we started talking about this project, we were exploring the idea of taking what's typically this kind of, like, ephemeral material and recontextualizing it as a sculptural form, and putting it into this crystal basketball vessel that I've been using," says Solomon. "Just to kind of canonize SLAM's media into this permanent piece of art [that] someone can have and share." 
As Solomon's Literally Balling project continues to blur the lines between balling on the court and balling with high-end art, his journey leads the way from actually hooping to paying homage. With ØNE 'N DØNE, it's about moving iconic images into new spheres of artistry, and with his upcoming work with the League for their 75th anniversary year, he'll be taking on the task of giving the NBA's individual award trophies new life as the game continues to grow. 
"A trophy is a culmination of a life's work," says Solomon. "So for the 75th anniversary, I'll be taking over all the production for trophies. The MVP, Defensive Player of the Year, the whole flight. Super exciting. Super honored to be a part of that moment."  
---
The Archive Halftime Vessel is a 100mm molded crystal basketball form with hand painted gold enamel seams, filled with the archive of SLAM's 28 years of covers and magazine content. It is limited to 75 pieces and individually handmade to order, no two vessels are alike.
Photos by Tom Bender.