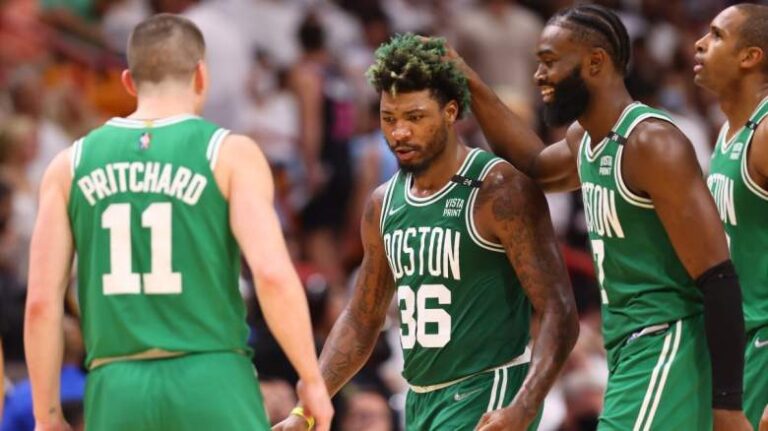 Boston Celtics guard Payton Pritchard posted a video to Instagram on Thursday that should make Boston Celtics fans excited and perhaps a bit concerned about his facial bone structure.
The Celtics guard shared some impressive highlights of himself getting buckets during a recent pickup game in Los Angeles.
But the video also shows Pritchard wearing a clear facemask similar to what he wore last October after he suffered a broken nose during the preseason.
Teammate Marcus Smart noticed Pritchard's new gear and chimed in, in the comment section, writing "@paytonpritch3 back to the mask I see 🔥"
That's when Pritchard came clean.
"I broke it again, lol," Pritchard responded, seemingly referring to his nose.
Looks like Pritchard has broke his nose again pic.twitter.com/CyDU7KfaSQ

— Adam Taylor (@AdamTaylorNBA) August 18, 2022
Fortunately for Pritchard and the Celtics, the broken nose doesn't seem to be affecting his game, as the 24-year-old looked very much on point in this video.
Pritchard also said back in October that his first broken nose and the subsequent treatment "wasn't painful at all," so this injury shouldn't be an issue with training camp still more than a month away.
Pritchard will have more competition for playing time this season, with newcomer Malcolm Brogdon joining himself, Smart, and Derrick White in a crowded backcourt.
While the Oregon product averaged just 6.2 points per game in 2021-22, down from 7.7 per game as a rookie, he proved his value in the postseason by scoring 59 points over a five-game span from Game 7 of the second round to Game 4 of the Eastern Conference Finals.
The Celtics will need more of that version of Payton Pritchard (masked or unmasked) if they want to make another NBA championship run.
Boston will look to return to the top of an even more competitive Eastern Conference this upcoming season as other rival teams have also retooled their rosters for a title run.
The Celtics open up against the Philadelphia 76ers on opening night at TD Garden.