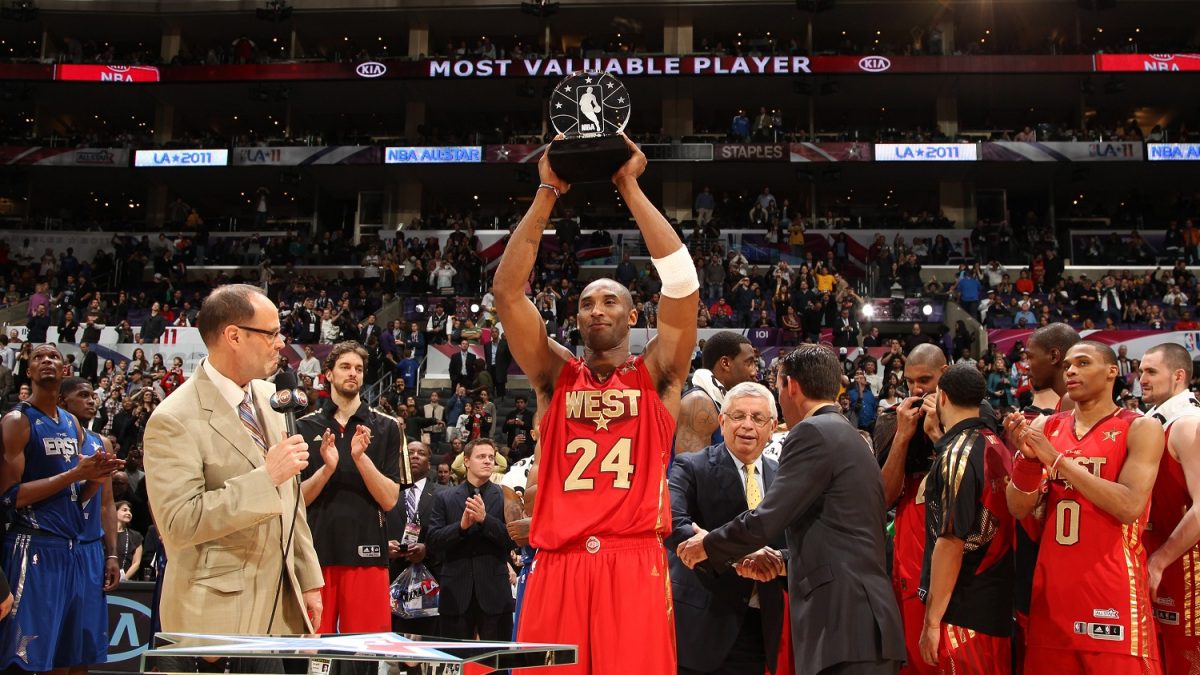 The NBA unveiled a gorgeous new trophy for the 2022 NBA All-Star game MVP that will honor the late great Kobe Bryant on Thursday.
The All-Star MVP trophy has been permanently renamed in honor of Kobe Bryant, who died in a helicopter crash in 2020.
The redesign contains many special details unnoticeable at first glance.
Every part of the trophy has been designed to pay tribute to Bryant and his spectacular career.
The new Kobe Bryant Trophy awarded to the Kia NBA All-Star MVP further celebrates its namesake, with intricate details holding dual meanings, both for NBA All-Star and Bryant's legendary career, which include the following: pic.twitter.com/kOXXywo8yX

— NBA (@NBA) February 3, 2022
Here all of the dimensions and how they honor the Lakers legend:
The base has eight sides, which is a nod to Bryant's jersey number. There are 18 stars on the outside of the base, which represent Bryant's 18 All-Star selections. The base is two inches high, which is a tribute to him being named the MVP of the 2002 All-Star Game.
The first level has 24 stars, which represents each All-Star in the game, and is also a nod to Bryant's other jersey number. The first level is seven inches high, a tribute to Bryant being named the MVP of the 2007 All-Star Game.
The second level has 10 stars, which represents the All-Star Game starters, and the jersey number Bryant wore with USA Basketball. Level 2 is nine inches high, which represents Bryant's 2009 All-Star MVP trophy.
The third level has five stars to represent "the unity of an NBA team" as well as Bryant's five NBA championships. Level three is 11 inches high, which, of course, represents Bryant's 2011 All-Star MVP trophy.
The fourth level shaped like a star to represent "the star of stars," as well as Bryant's 2007-08 NBA MVP award. It's two inches high, which represents Bryant's two Bill Russell Awards for being named NBA Finals MVP in 2009 and 2010.
There is definitely a lot of detail that covers one legendary career.
The trophy itself is gorgeous and is a big upgrade from the old trophy that Bryant received three times in his career.
Other trophies and the NBA All-Star rings were also unveiled for the big weekend in Cleveland.
The All-Star Game is Feb. 20 with All-Star weekend festivities beginning Feb. 18.