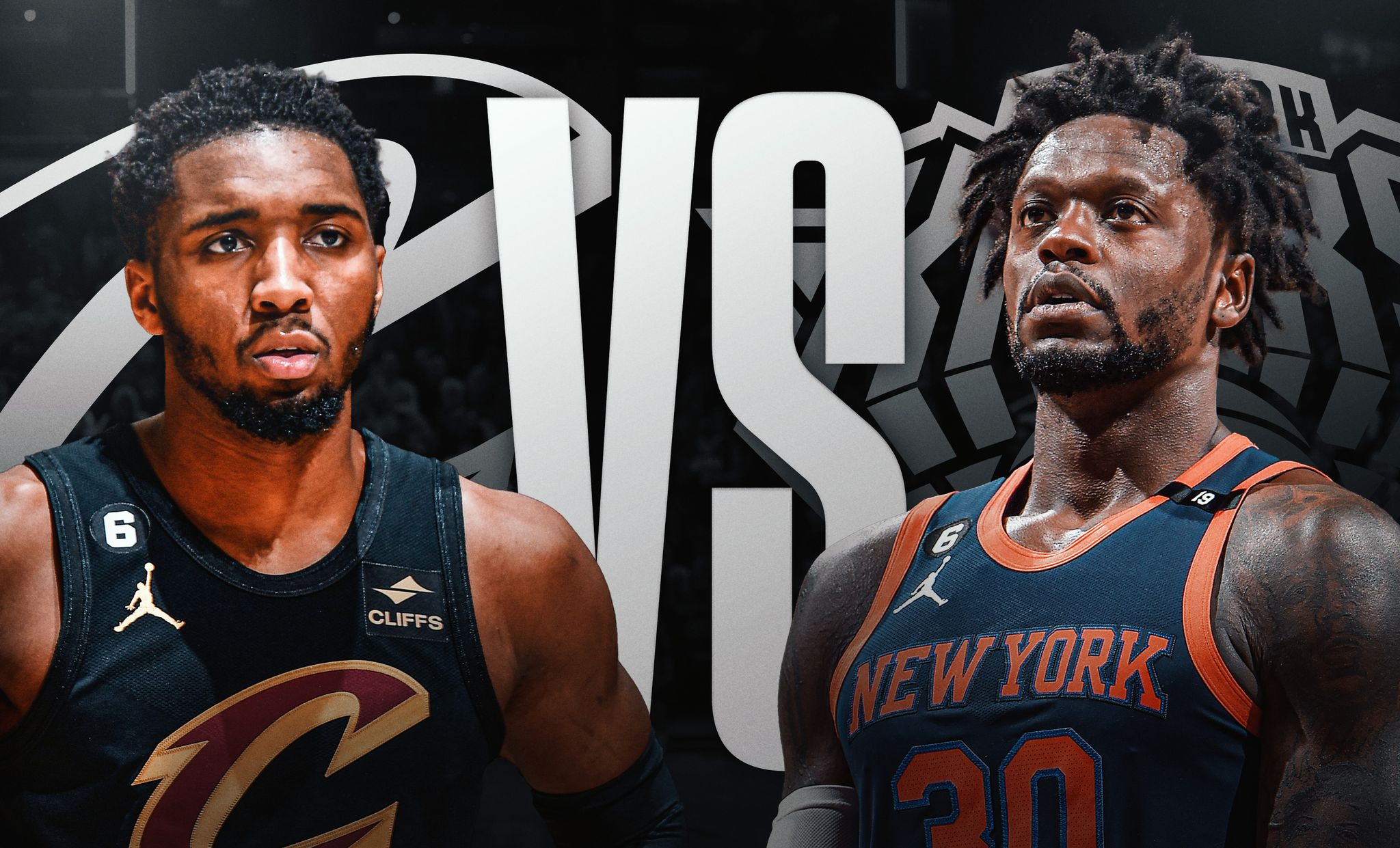 After the Cavaliers tied the series at 1-1, they head to New York to take on the Knicks for Game 3 of the Eastern Conference first round. The game is expected to tip-off at 08:30 PM ET, Friday, April 21st, 2023.
Considering how close the series has been through the first two games, its no surprise the Knicks are only a 2.0 point underdog, with many believing the game will be decided by just one possession.
MATCH PREVIEW
The Knicks and the Cavaliers are currently tied 1-1 in their Eastern Conference first-round series. In their last game, the Cavaliers secured a 107-90 victory, with Darius Garland leading the charge with 32 points, while Julius Randle led the Knicks with 22 points.
New York have a conference record of 32-20 and rank second in the league with an average of 46.6 rebounds per game, with Randle contributing an impressive 10.0 rebounds on average.
On the other hand, the Cavaliers boast a 34-18 record against Eastern Conference opponents and hold the fifth position in the East with a 36.7 percent shooting percentage from beyond the arc.
Some top performers for the Knicks include point guard Jalen Brunson, who is averaging 23.5 points per game along with 3.5 rebounds and 4.0 assists, and shooter Immanuel Quickley, who has been averaging 23.3 points and 4.2 rebounds while shooting at an impressive 47.8 percent over the past 10 games.
For the Cavaliers, shooting guard Donovan Mitchell has been leading the charge with an average of 28.3 points, 4.4 assists, and 1.5 steals per game, while Caris LeVert has been averaging 2.0 made 3-pointers over the last 10 games.
In their last 10 games, the Knicks have a record of 6-4, averaging 116.2 points, 44.6 rebounds, 25.4 assists, 9.6 steals, and 5.2 blocks per game, while shooting at 47.9 percent from the field. Their opponents, on average, have scored 113.0 points per game.
Similarly, the Cavaliers also have a 6-4 record in their last 10 games, averaging 110.7 points, 39.4 rebounds, 24.7 assists, 7.0 steals, and 6.4 blocks per game, with a shooting percentage of 47.9 percent. Their opponents, on average, have scored 106.4 points.
ODDS AND PREDICTIONS
This is projected to be one of the closest series in the first round, with the Knicks having a favorable point spread at home. Randle has been a formidable matchup for Cleveland's front line, using his strength and athleticism to exploit their thin defense.
Despite RJ Barrett's below-average production in previous games, he is expected to perform closer to his season averages on his home court, making a big impact. With the Knicks boasting the fourth most efficient offense in the league, Barrett stepping up as a reliable third scorer will make them a tough team to keep up with.
Cleveland has relied heavily on Mitchell and Garland for scoring, and their role players may struggle even more on the road. Additionally, Mitchell Robinson's playing style is similar to Jarrett Allen's, which could disrupt Allen's usual productivity.
With the passionate Knicks fans in full force at Madison Square Garden, New York is expected to take Game 3 at home and bring playoff basketball back to the Garden in thrilling fashion. But remember, it's important to keep in mind that sports betting always involves a degree of risk, and there's no guarantee that the Knicks will be able to score on a top defensive team in the Cavaliers. As always, it's essential to do your research and make an informed decision based on the available data.
Spread: Knicks -2
Moneyline: Knicks -130, Cavaliers +110
Pick: Knicks -2
Looking for more NBA tips to up your NBA betting game and increase your chances of hitting it big? Look no further than BF Tips, the premier NBA tipping service! Our team of expert analysts and statisticians work around the clock to deliver you the most up-to-date and accurate tips for every game, ensuring you have the edge you need to come out on top.
With BF Tips, you'll receive detailed analysis and insights into each game, including player matchups, key stats, and trends to watch for. Plus, our user-friendly platform makes it easy to access our tips and track your progress, so you can stay on top of your betting game.
Whether you're a seasoned pro or just getting started, BF Tips has everything you need to take your NBA betting to the next level. So why wait? Sign up today and start winning big with BF Tips!