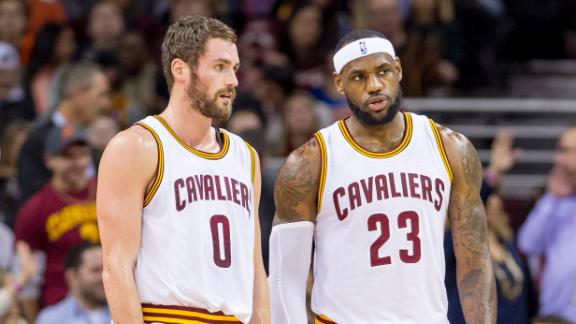 While LeBron James and the Los Angeles Lakers are on the brink of elimination from postseason play, Kevin Love and the resurgent Cleveland Cavaliers are looking at their first trip to the playoffs since James departed for Tinseltown.
Oddsmakers had the Lakers as favorites to bring home the Larry O'Brien Trophy this year, but in what has turned out to be arguably one of the worst seasons ever for the Lakers, the team is poised to be disqualified from the Play-In.
Back in Cleveland, the 43-36 Cavs are currently slotted seventh and would take on the Atlanta Hawks in the Play-In, which leads many fans to ask if James would have a better shot at winning his fifth ring back home.
"I mean, that's like a storybook ending for him," Love said when asked by Mark Carman of FanSided if the Cavs would welcome him back. "I don't want to project what he may or may not want to do, but where our team is trending and how we're set up to win for a very long time and how much you know, Cleveland and Akron and all of Ohio loves him. It'd be great to get Bronny [James] over here too, and then we'll call it a day."
James said he wants to play with Bronny before he retires, and he is open to playing for any team that can make that happen.
Bronny won't be eligible for the Draft until 2024, while James is under contract with the Lakers until next season when he becomes a free agent.
Russell Westbrook has been a disaster in LA, but the team is going to have a hard time unloading his contract, and injury-plagued Anthony Davis may also be available as the Lakers look for a fix that won't come cheap.
James has shown that if history is any indicator, he has no issues moving on, and winning one more title for Cleveland would be a Hollywood ending.