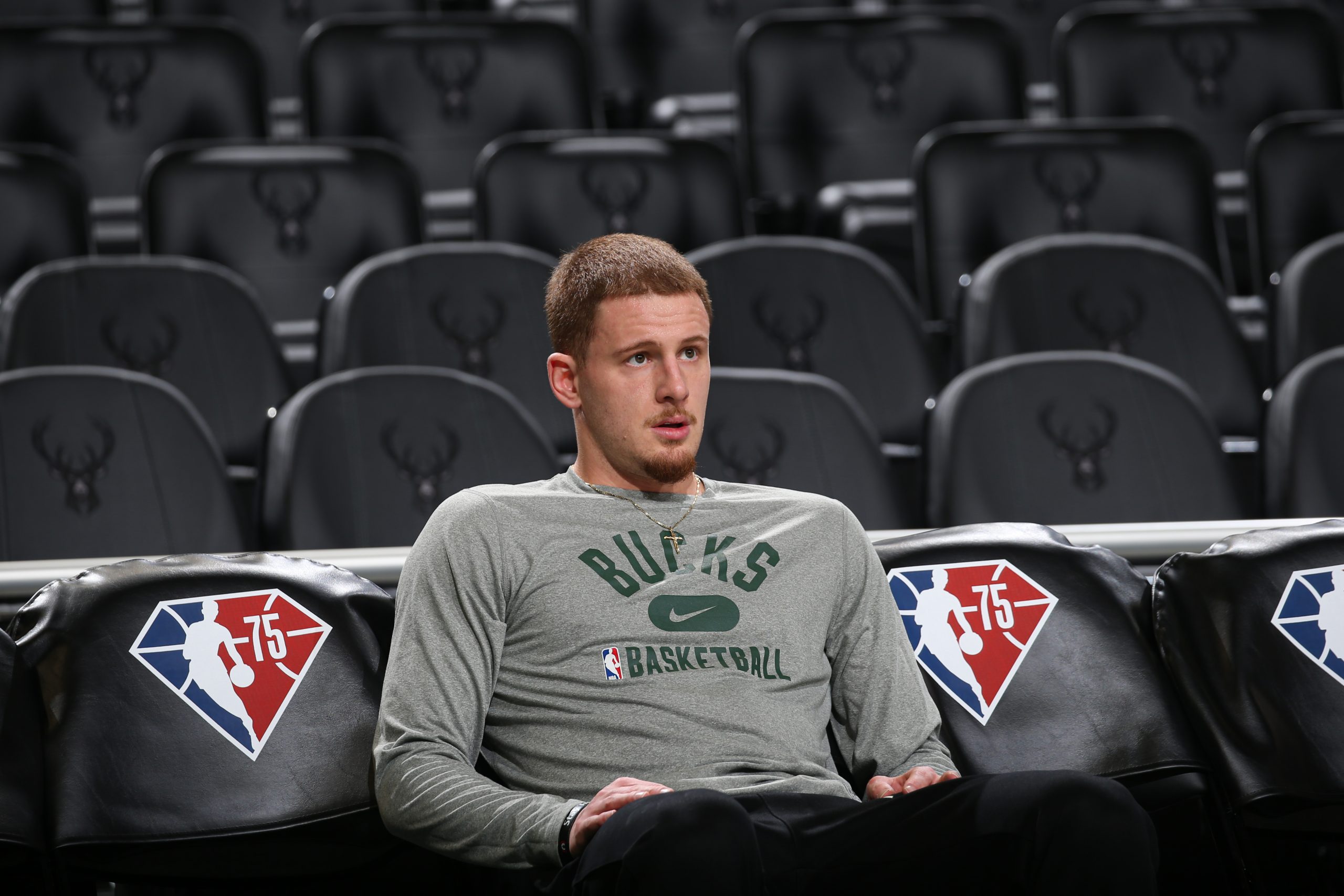 Milwaukee Bucks stud Donte DiVincenzo has waited a long time for the moment he can step back on the court with his teammates. DiVincenzo made his return on the Bucks' Christmas Day matchup against the Celtics, playing for the first since suffering a severe ankle injury in Bucks swept the Heat in the first round of the playoffs.
In his return, DiVincenzo contributed three points and snagged two rebounds in 15 minutes. He shot 1-4 from the field, smoking two layups before knocking down one three-pointer for his only points of the night. The missed layups drew plenty of jokes from teammates, including Jrue Holiday, who was just happy to see him back on the court.
"First of all, go easy on me," DiVincenzo said through a laugh per the Athletic. "But nah, I did. I smoked two layups, and I don't think I would have smoked them on the 15th, but not touching the ball and coming in on game day."
"I was telling Jrue afterwards; it kind of felt like rookie year," DiVincenzo said. "I had those little butterflies in my stomach, anxious being on the court, just running around, I was like, 'I'm back!' So, it took me a little while."
DiVincenzo has been working to return by December, a goal he set after being told by team doctors that he could begin rehabbing and get back to basketball duties in September, but wasn't given a timetable for his return to the court. The reason was that his return date was going to be determined by how his body, his surgically repaired ankle, in particular, would hold up to DiVincenzo testing it with rigorous exercise and movements.
The Villanova product then ramped up his conditioning and rehab after the Bucks sent him down to play with the Wisconsin Herd, the Bucks' G League affiliate. However, DiVincenzo entered into League health and safety protocol, delaying his return by another 10 days that caused him to lose some of the progress he worked so hard for.
"Obviously, it's going to take a while. I haven't touched a ball in a little while and just trying to get a rhythm. I'm just happy that I'm back. You can't do anything unless you have your health on the court, so that's all I'm thankful for, and I'll keep building off of that."
DiVincenzo has a long way to go to return to the starting lineup, but for now, he will presumably be focused on regaining his rhythm and taking the next step towards being the two-way threat he was before he lost time to injury. The Bucks (22-13) play the Magic (7-27) next Tuesday.