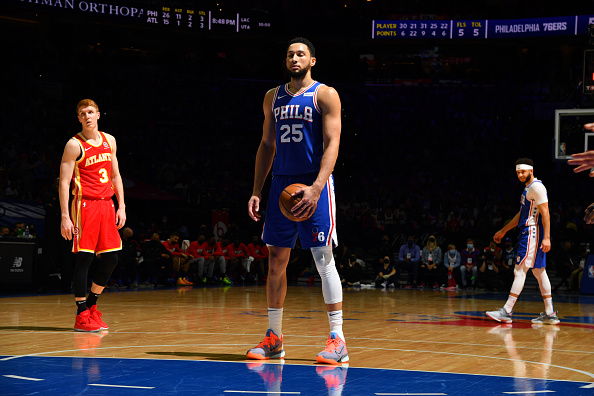 In professional sports, the most mentally draining times are when it feels as if they're off the game for an elongated stretch or when their team is on the losing end of the battle far too often. Professional athletes also have myriad anecdotes about the strain of being in difficult environments, whether it be confined to the locker room or be an franchise-wide disconnect.
For three-time All-Star Ben Simmons—a franchise pillar for a perennial playoff contender and one of the most consistent players in the league—the latter scenario has led to him all but demanding a trade from Philadelphia.
This despite signing a five-year, $167 million max contract extension with the Sixers in 2019.
According to Keith Pompey of the Philadelphia Inquirer, Klutch Sports' Rich Paul told the Sixers that Simmons was "mentally exhausted" after four seasons with the team.
Pompey adds that Philadelphia may have disregarded Simmons' "state of mind" because of the "four years remaining on his contract."
Ever since the Sixers' stunning elimination in the 2021 NBA Playoffs, one in which a passive moment by Simmons became arguably the most discussed play in the sporting world, Simmons has received a sizable amount of negative publicity with many questioning his hit beside franchise cornerstone Joel Embiid.
Those questions are legitimate considering Simmons' inclination—if not outright need—to score in the paint and Embiid's proficiency scoring inside the arc. However, the way the Sixers—namely Embiid and head coach Doc Rivers—went about questioning Simmons in the public eye only serves to highlight an unhealthy locker room environment.
Though Simmons is accountable for his mental lapse in the postseason and only incremental offensive development since entering the league, the discourse about him as a player has discounted that he's an elite defender (Defensive Player of the Year runner-up last season) and facilitator (he holds the Sixers' highest assist per game average all-time) who is brilliant on the fast break.
Being pegged as the source of the Sixers' issues, particularly by those within the organization, would have to be exhausting indeed.